Sorry, never mind will withdraw.
Wow amazing Brian. Look forward to trying this out
Thanks! Planning to put together a short video on this tonight.
Hi @BrianJ
Thanks for the post ! I did not know about the external tools yet
and btw your External Tools ribbon looks nice

Would you mind explain how you also integrated the DAX Formatter Chrome, DAX.Guide Chrome ?
Also you made me curious about the other ones: Themes, Charts, Layouts, Scrims… what are they

Would appreciate your advise & comments. Thanks!
Alexandre
Hi @BrianJ,
Thank you for providing such a valuable external tool. It would be really helpful. AS @Alex7891 mentioned, your external tools list looks amazing and it would be great if you can share how to integrate those in Power BI and how to use them efficiently. I believe it would make us much more productive.
Kind Regards,
Hafiz
Oh man, you're in for a treat! The External Tools menu is one of the best new features in Power BI. We've actually accumulated quite a bit of information in the Software and Tools section of the forum. Here are the "big three" that I think everyone who does serious work in Power BI should have loaded in their external tools. These are full-blown add-ons that actually connect to your Power BI data model and add major functionality. (There's a fourth one called ALM Toolkit that a lot of people also have loaded, but frankly I don't really understand what that one does, and the other three have kept me plenty busy learning new functionality).
The Big Dogs
The one current downside to Tabular Editor is that it doesn't include IntelliSense. However rumor has it that v3,0 will be coming out very soon, and will include IntelliSense along with a bunch of other new features. If that is in fact true, it will be an incredible replacement for the current built-in DAX editor which is woefully insufficient.
The Enterprise DNA Tools. These external tools linkages were developed by @samaguire and @Greg, and basically just call the web versions of Analyst Hub and DAX Cleanup. No additional functionality gained by putting them in the External Tools menu, but very convenient to have them accessible all in one place.
The rest, called through Business Ops Manager. The Power BI Tips guys have done something pretty interesting, which is to develop sort of a meta-manager for external tools utilities. Through this I've installed most of the other tools on my External Tools menu toolbar.
I hope that's helpful, and gives you some cool new toys to play with.
P.S. Just finished recording a YouTube video on the Practice Dataset tool, which should post soon after it comes back from the editor.
Great @BrianJ

Thank you.
Forum Members,
Thanks to an incredibly quick turnaround by the @EnterpriseDNA team, my video on the Perpetual Practice Dataset external menu tool already has been posted on the Enterprise DNA TV YouTube channel:
Big thanks to Aikeen and Sheila for the rapid turnaround on the video.
I installed the tool but when I try to use it - power bi closes but the practice dataset never opens. suspect there is an issue with the powershell script. I can't open power - message cannot access specified path or file. After about a minute I can open the desktop. Anyone else having this issue ?
Hmmm…sorry it's causing you problems. 3 questions:
what browser are you using?

32 or 64 bit PBI?

direct install or installed via MS Store?

Brian
Same issue here.
Chromiun Edge
64 bit
MS Store
Guy
Not much difference really. I like having it immediately accessible within PBI, but putting a shortcut to the PBIX on your desktop will provide the same basic functionality.
If others are having similar problems, let me know in the thread with answers to the three questions above. I will compile the info and circle back with @samaguire to see if there might be a simple fix.
Hi there,
I have the same issue,
I use firefox,
64 bit
ms store
thanks
Keith
Hey - sorry I'm late to the party.
I find it a little odd that the PBID instance closes - that would suggest Power BI Desktop crashed when you've tried to run the external tool.
Can I confirm the version of Power BI Desktop you are running?
Hi All
I'll do my best to work through the issues.
As a starting point, if you're having trouble running the tool can you please provide the session diagnostics. This can be copied from the about windows in Power BI.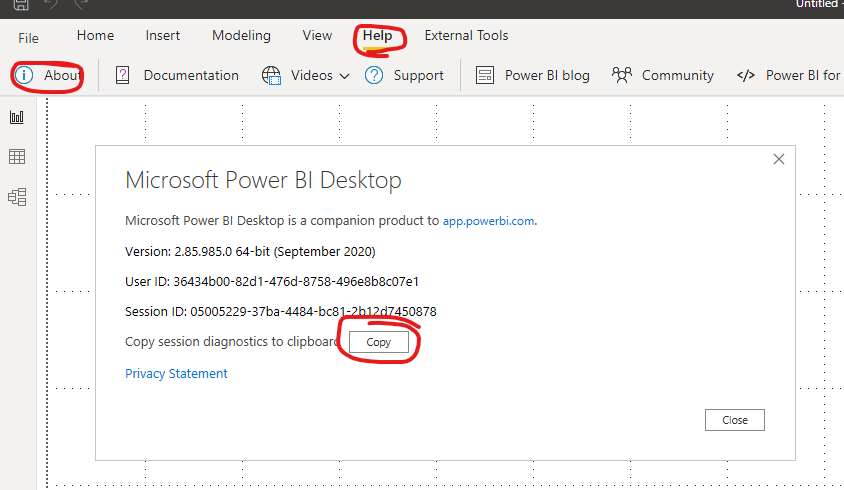 It would also be great if you can give me the location of the executable if you can. Which you can get by:
opening task manager (right click on the taskbar),
enabling more details (lower left corner),
selecting the details tab (top right),
scrolling to PBIDesktop.exe,
right clicking on PBIDesktop.exe and selecting open file location,
copy the path from the new windows explorer windows (top section of the window).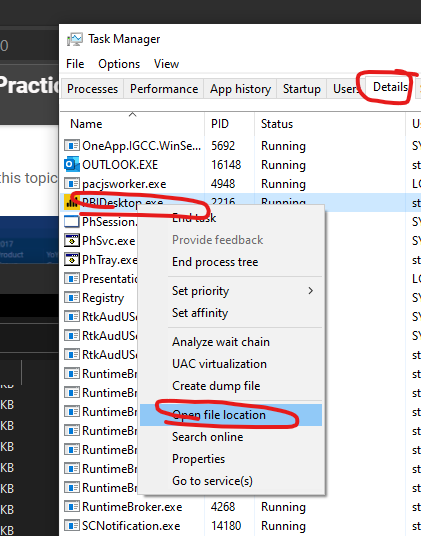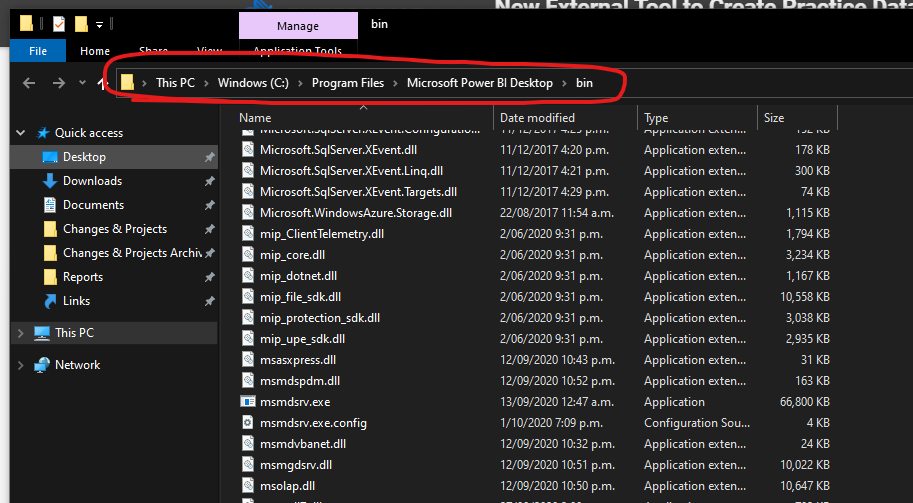 Hi there,
I'm running under C:\Program Files\WindowsApps\ as i'm pulling the information software from Microsoft store.
that might be the issue.
thanks
keith
The script should pickup a windows store installed version. At least on my machine it does.
Are you clicking yes when it asks to run with elevated privelages?