Hello to all my fellow enterprise DNA members and power bi enthusiasts. I trust you are all keeping well. It has been a manic few weeks and Christmas is fast approaching. I am sure there are a few of you who have probably started the festivities already.
For many of you this is a Christmas like no other here in the UK the guidelines and guidance is changing daily and there remains uncertainty around what we can and can't do. I hope that you all get the opportunity to spend some time with family and enjoy some well-earned rest.
However there is one tiny little thing to wrap up before its lights out, Challenge 10!!!
The challenge truly has been one of the highlights of the year. We have made some great strides with where we want to take the challenge and completing 10 challenges is testament to the hard work from all of you who are participating and the Enterprise DNA team.
We have some amazing ideas and plans for the new year to make it even bigger and better and hopefully get even more of you involved.
Before I get into announcing the winner just a couple of bits of admin to cover off.
So firstly there have been a number of questions asked about the challenge showcase and getting access to the PBIX files that are created by participants.
All submitted entries are available AS PART OF ENTERPRISE DNA MEMBERSHIP. We have created a specific module within the portal that makes all these resources available however it is only available to members and will continue to be a member only privilege. We have some super exciting stuff lined up for the challenge and believe that it would only be fair that these opportunities and resources are member only.
Any further questions on this do not hesitate to reach out to my self or any of the team.
So the second point is around submitting entries in the forum. There has been a request from several members that we find a way to hide the submissions from viewing from any wandering eyes that may not want to see the submissions until they themselves have completed the challenge.
I know a number of you employed the blur option and the hierarchy view to hide your submissions and this is absolutely brilliant as it allows those who want to see to click and view while keeping it hidden from those who don't.
So can I please ask that going forward you all either blur or hide your submission using the options available in the forum. Any questions again do not hesitate to get in touch.
The Winner
So its taken me a lot longer than normal to come up with the winner such was the standard of work being produced. Some absolutely amazing reports displaying so much originality, creativity, and class.
Every week we seem to be raising the bar with what's possible in power bi.
Compared to previous challenges the dataset was probably a little easier to make sense of and model which resulted in a high number of participants which was excellent.
I just want to clarify a couple of things around the judging to ensure transparency in the process.
Every challenge is a blank canvas. We have taken a "Top Chef" approach to judging the challenges where no previous efforts or work are considered. We solely pick the best report produced for that challenge. Simples.
So without further ado the winner of challenge 10 is someone that we all have a great deal to learn from in the art of data presentation and storytelling. @alexbadiu another absolute showstopper that covered all basis. There was so much going on with this report, yet it still looked like there was so much room on the canvas.
As a developer I know how hard it can be and I fall into the category of running out of space on my page. However Alex has a measure of this, and the pages never feel overwhelming while conveying the key information. How can I also not mention the absolutely stunning incorporation of the bank card to associate cost with the defects/downtime. This was a really nice touch and added an extra depth to the analysis.
Excellent work @alexbadiu and congratulations.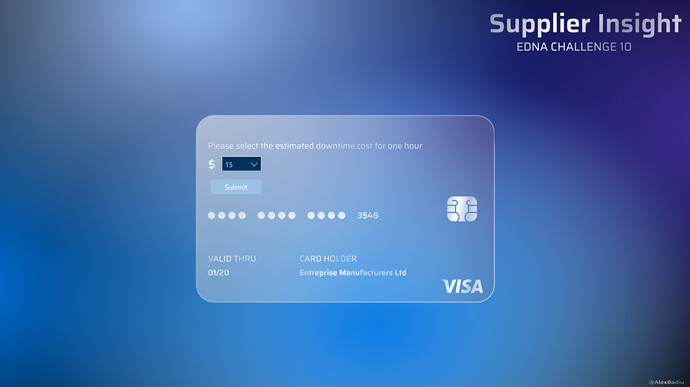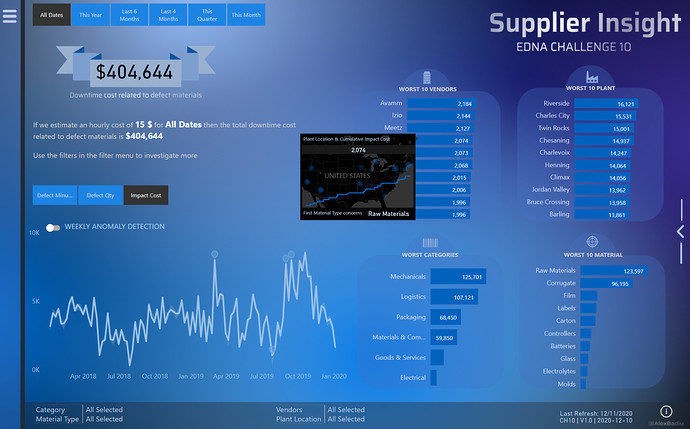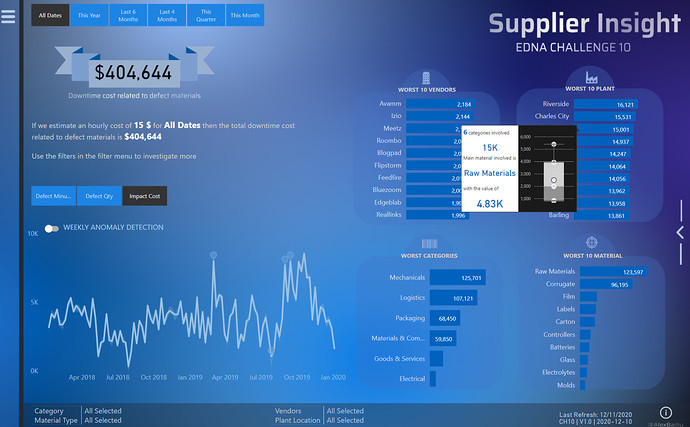 There were a number of other entries that really pushed Alex all the way and are well worth a call out. @MudassirAli again treated us to a spectacular showcase of graphic design teamed with analysis. There were also some highly commended efforts from @datazoe @JarrettM, @Greg and @Alvi.
Sample of @MudassirAli



Sample of @datazoe



Sample of @JarrettM



Sample of @Greg



Sample of @Alvi



I'm really looking forward to the video series from @JarrettM on how he went about challenge 10 and his process to building a stunning report. So keep your eyes peeled.
I think there was also a report from one @Rachwen_Mesbehi that deserves a specific call out just for the genius of applying pixel art and creating a game to deliver the report. A truly remarkable entry @Rachwen_Mesbehi and a true demonstration of the innovation possible within power BI.
Sample of @Rachwen_Mesbehi



Our first time participant winner was @jbressan an excellent introduction to the challenge a nicely constructed report that covered all basis. Congratulations and hopefully see you on the next challenge.
Sample of @jbressan



Our non-member winner was Jihwan Kim an excellent entry with some very good analysis. Congratulations.
Sample of Jihwan Kim



I just want to take this opportunity and give a massive pat on the back and thanks to all participants. Seriously I've loved reviewing the challenges and there are always elements in every report that I like and copy into my own development. I know how long it can take to develop a quality report, so I just want you to know that we truly appreciate the efforts of every contestant. We know that getting hand on is the fastest way to mastery and that's why we believe the challenges are so powerful.
So a massive thank you to all participants across the 10 challenges you are all winners for taking the leap and testing yourself and embedding learnt material. Hopefully more of you to get involved in the new year.
Conclusion
The next challenge will hopefully be released in the new year so you can all have a nice break
. We have developed some seriously amazing reports in the 10 challenges to date and I highly encourage you to review the write ups and posts should you have a spare minute or two.
I really hope to see more of you getting involved in the new year.
That's all from me folks, once again a massive thank you to all of you for getting involved.
A massive well done again to @alexbadiu and all participants.
I wish you all a pleasant break and see you all in the new year.
Remember any questions queries do not hesitate to get in touch.
Feel free to email powerbichallenge@enterprisedna.co for any queries or reach out to me personally on haroon.ali@enterprisedna.co
Haroon
Enterprise DNA