@Greg I also showed someone else afterwards and they now think I'm the DAX master
You're too kind … I'm glad it helps.
Greg
this is really beautiful. and tempted to ask you for you pbix file lol. this is good.
Hi @bafuzie,
You can find all the entries to the challenges in the portal
Select the challenge you are looking for, in this case: Power BI Challenge 8 - Jira IT Service Desk Analysis
Use the link on top to navigate to the files section where you can download the PBIX from anyone who participated in that specific challenge.

All the best.
@datazoe
The design looks absolutely amazing.
can you share the PBIX file ?
Hi @pradeep1620 ,
Welcome to EDNA community and great to have you here. You can go through different showcases and can also download the pbix files from the following link:
Thanks.
@pradeep1620 thank you! I haven't shared the PBIX for that one yet. Was there something specific you were looking for a closer look on in that report?
Very nice and informative !
Hello @Greg
I've down loaded your pbix file for challenge 8 to unpick how you created such a beautiful solution. Could you please attached your Python Data.xlsx and SLA Definition.xlsx files? Also, if there are any additional instructions for libraries or anything else to install please let me know? I'm on a machine where I have nothing in addition installed and am quite inexperienced at using 3rd party libraries.
Best regards and thank you in advance,
Michelle
Hi @michellepace. Sure, here you are.
Python Data.xlsx (11.6 KB)
SLA Definitions.xlsx (10.6 KB)
You can also easily create these anytime you wish by making a table and exporting the data.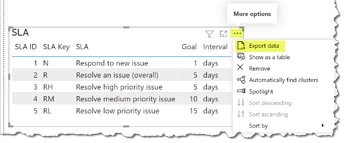 Exporting data from DAX Studio is even easier.
As for installs, just follow the Python install instructions provided by Microsoft:
[Run Python Scripts in Power BI Desktop - Power BI | Microsoft Docs]

Thanks for the interest.
Greg