Challengers,
I trust you are all keeping well.
Another manic two weeks have passed, lockdown has been eased and reinstated. Gyms, restaurants, bars, shops all open with the wearing of masks compulsory and I'm sure for many others a whole lot more but we have managed to complete yet another Enterprise DNA challenge and wow what a challenge it was.
Seriously the standard of work was un-real and what was more pleasing to see was the interaction between all you guys on the forum, the sharing, the write ups, the questions was fantastic to see and something we really want to grow so a massive thank you to all of you who are participating and making this a success.
The challenge has now been going for 5 weeks and we have manged to cover some great scenarios across a range of industries. The challenges are being carefully selected from previous engagements that the Enterprise team and experts have worked on.
There have been some questions around data validity, and this is something we are looking to improve going forward however at the moment in order to ensure client confidentiality we are completely anonymising the data.
The challenges are selected to help demonstrate the capabilities of power bi and how flexible you can be with its use. There are many elements to the challenge, and we encourage you to extract and focus on activities that you are particularly struggling with be that power query, DAX, design etc.
Enterprise DNA firmly believe that practice is one of the best ways to improve your skill set and speed up your learning journey. We know from experience that tackling problems further enhances this journey. With this in mind the challenges create the perfect opportunity for you to implement and apply these principles.
I also want to take a moment to mention the new beginner category and initiative inspired by our resident forum celebrity @brianj who has kindly offered a choice of rewards for any entrant that has been using power bi for less than a year for full terms see the post below. But seriously we want more of you to get stuck in so any of you sat on the fence don't be shy come and get stuck in.
We are always looking to improve and are keen to listen to any feedback or thoughts you may have. So feel free to either post a comment in the forum or reach out to me.
The Winner
A thesaurus! That's what ill be asking for at Christmas.
I'm seriously struggling to describe the work without making it look like I'm copying and pasting from previous challenges (promise I'm not)!!!
It was another tough week to judge and there were some great entries displaying great initiative and techniques.
Having been involved in a similar project (more to come in the feedback) I think there was one entry this week that ticked all the boxes and some.
I think the brief was well understood by all and some of you tried going above and adding some complex factors which was good to see.
A massive well done to all participants the winner this week was @Melissa a seriously awesome report that from experience wouldn't look out of place embedded within a very expensive appointment management systems. @Melissa demonstrated some seriously powerful techniques, the recursive function, the statistical detection, schedule handling and implementing changeable parameters not to mention the excellent design and usability.
Well done @Melissa awesome work.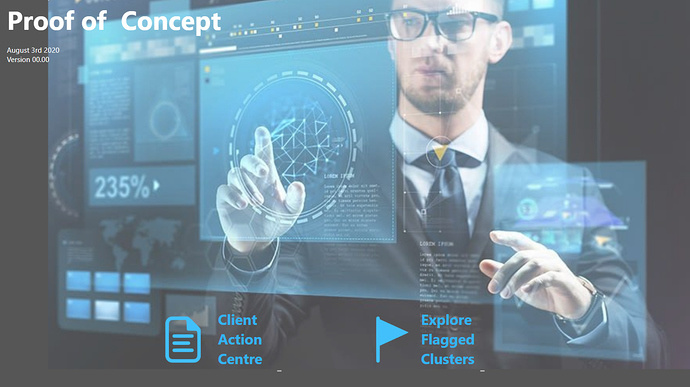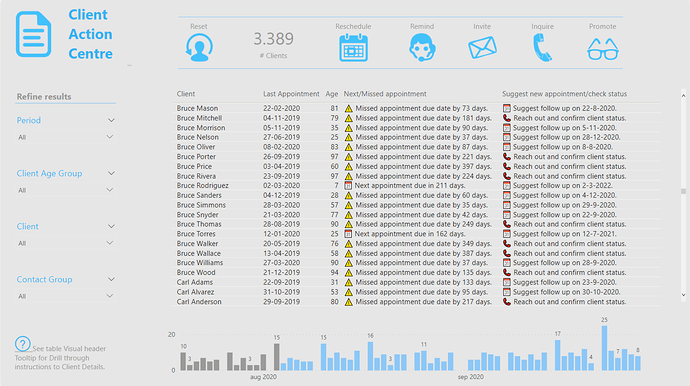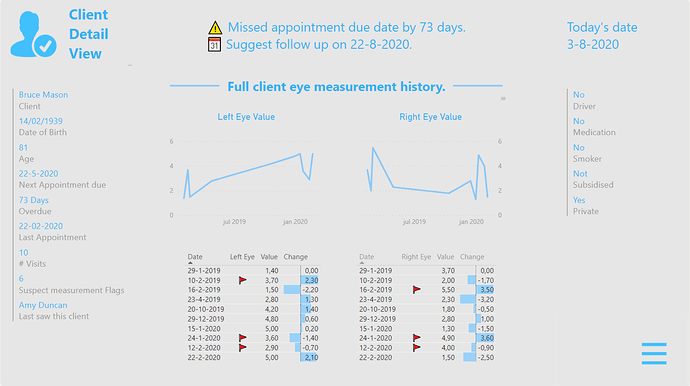 There were also some highly commended efforts from @Greg, @Alvi, @alexbadiu, , @MudassirAli all reports had some solid analysis and creative designs to match.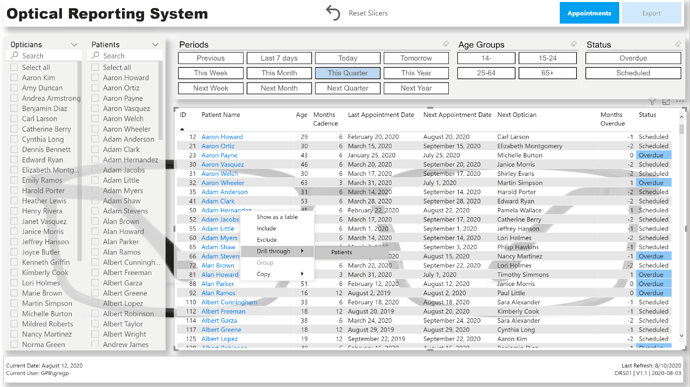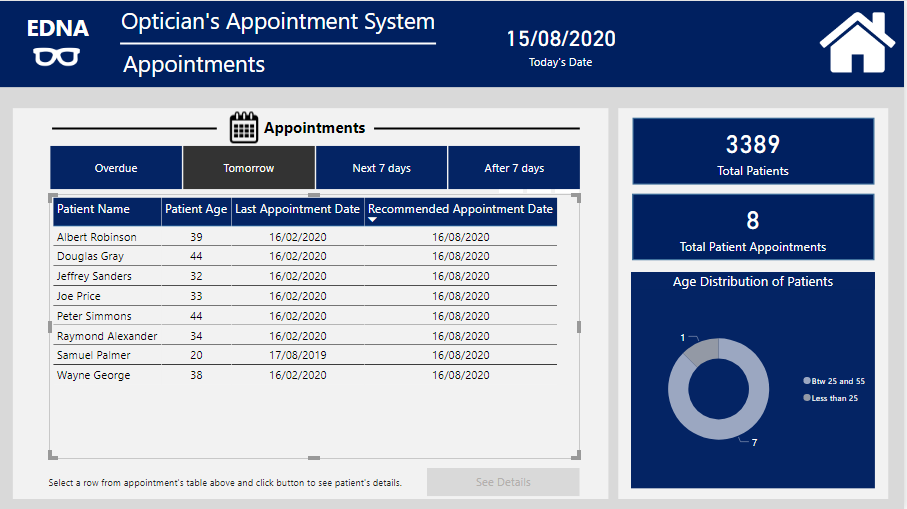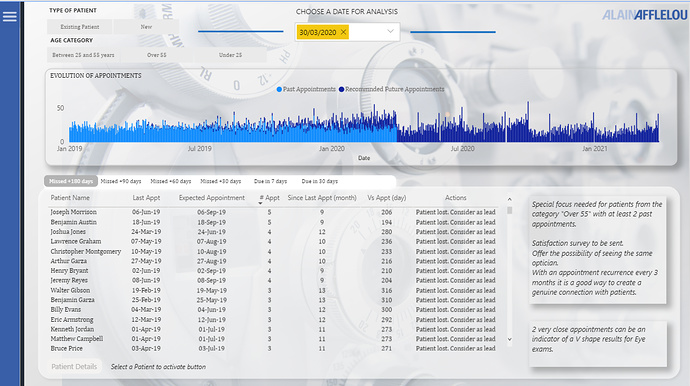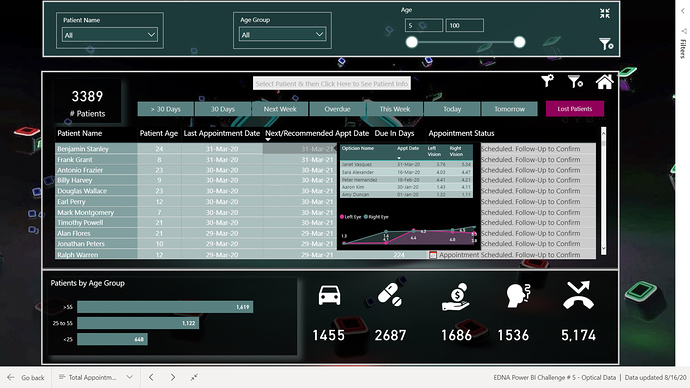 I also want to give a shout out to @BrianJ and @harsh.nathani for implementing patient images not something I've played with but very interesting.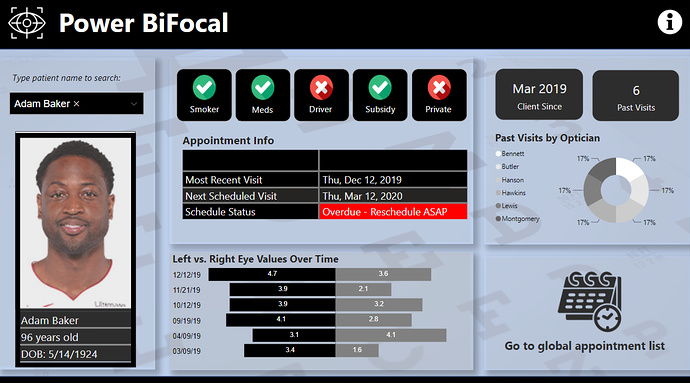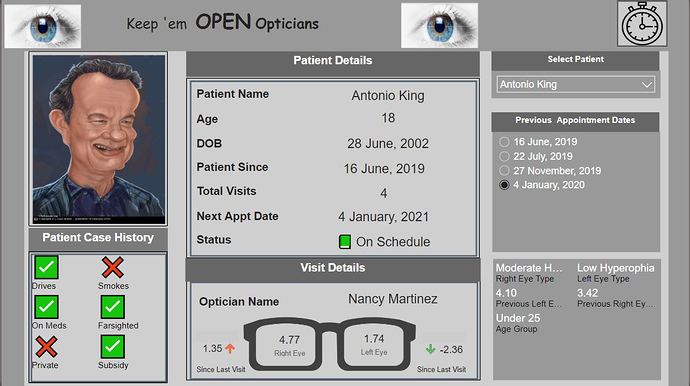 I'm going to save of announcing the winner of the newcomer category to give everyone who wants to be considered the opportunity to let me know. Please could you post if you want to be considered for this category into the post below.
Some excellent submissions all round a massive well done to everyone participating.
Feedback
This week's challenge was based on a use case that a member of the Enterprise DNA team worked on when working as a consultant. They were working with a national optician to help them implement a new appointment management system. They were bought in to help evaluate several systems against what the business required.
The business had a number of objectives that were required of the system from appointment entry through to reporting.
While assessing the tools it became apparent that none of the systems with the desired functionality could meet the reporting demands required by a national outfit that needs to adhere to certain standards and meet certain commercial agreements.
So he suggested that they look at using Power BI.
As mentioned in the brief this was met with some resistance as we have all become accustomed to awesome user experience so trying to convince the business that this was a viable option and not some clunky reporting tool that's going to take hours to produce and manage.
As demonstrated by you with your submissions that this is far from clunky and actually Power BI can handle some advanced reporting and analytics that the business had yet to even consider.
One aspect of the brief that was interesting was the suggested appointment requirement. It was interesting to see that this was achieved in a number of ways. I know some of you chose to do this in power query and others with DAX it would be interesting to get the experts view on this and I know there were some interesting discussions taking place in the forum with regards to this.
The reason for this requirement came from the fact that when the consultant was working with the business on the requirements this particular ask around scheduling was something the business were very keen on implementing. With their limited knowledge of reporting they were keen to have this logic built within the app and were even willing to pay extra!
Well done to all those who have managed to implement this. Sometimes what seems like advanced logic to the business is easy to implement and can save them time and money.
The brief was simple, and you all did an excellent job of extracting the required information and showing what's possible with Power BI.
One final point I will mention is that sometimes we are all guilty of getting a little carried away and over complicating things so I just want reiterate that sometimes simple is best always try putting yourself in the shoes of the user.
Awesome work everyone great work all round.
Penny was convinced and is now a super user, leading the charge for Power BI in her organisation.
Conclusion
It's been fun reviewing the submissions and I hope there was something to take away for everyone involved.
Truly appreciate the effort you guys are putting into this.
The challenge is all about you and enhancing your capabilities. if you have any ideas, concerns, issues or anything else you want to discuss then don't hesitate to get in touch.
If there is an idea or scenario that you would like to see posted then don't hesitate to get in touch.
Feel free to email powerbichallenge@enterprisedna.co for any queries or reach out to me personally on haroon.ali@enterprisedna.co
Ok that's enough from me.
Keep your eyes peeled for challenge 6 which will be released soon.
Any questions, requests or queries do not hesitate to get in touch.
Haroon
Enterprise DNA