Hi All,
I need help with creation of data model to help me create representation for a dynamical hierarchical data that we have.
Essentially, we have lot of free form reports via an application. Data has been gleaned from the form but the next challenge is to understand how to represent the data.
Here is how my sample form looks like -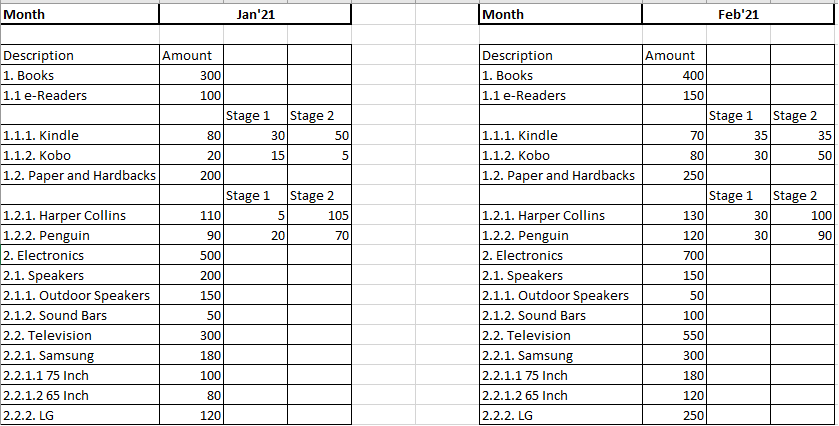 Am also attaching the sample Data for two months. The actual data runs into about 15-20 main categories followed by multiple sub categories and further divisions in them. There are various other forms with different hierarchical structure. For now I am tackling one form at a time.
Form data.csv (1.5 KB)
I have worked with Power BI before and have decent exposure to DAX and have built medium complexity dashboards. Essentially, what I am looking for is to be able to create say a time-series report of Main Categories - Books, Electronics etc. User should then be able to further breakdown on any of them into sub categories and see the movement.
In some cases such as the Kindle and Kobo, where there are sub-stages, one should be able to slice it across them (say seperate visual or something, not via drillable from top).
Have gone through various videos, tutorials on the net but am not able to get proper direction on how to proceed. I am able to get few pieces at a time by dragging in 'Description' and setting the filters on it. I want to understand how to set-up a dynamic hierarchy and relation and how to define such model.
Any help or links to relevant sources would be highly appreciated.