Welcome to Excel Workout #2!
Difficulty Level: 2 out of 5


This week's challenge is designed to test your knowledge on Data Validation and Conditional Formatting.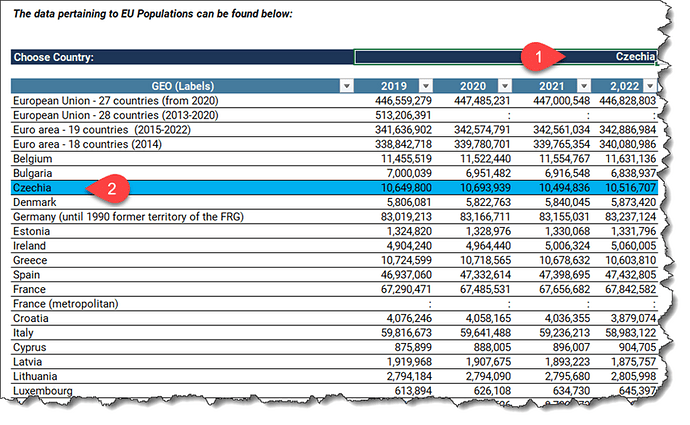 Data validation is a feature in Microsoft Excel that allows you to control the type and format of data that users can enter into specific cells. It helps to ensure the accuracy and consistency of data by limiting the range of values that can be entered into a cell.
Conditional formatting is a feature in Microsoft Excel that allows you to format cells based on specific conditions or criteria. This means that you can apply formatting such as color, font, or borders to cells automatically based on the contents of the cell.
Goals
Please follow the directions given below, which include downloading the Excel worksheet required to perform the challenge tasks. Once you have completed the download, proceed to take the challenge and test your skills.
Task
Create a drop-down list of country names located in the L8:L61 range in column M5.

After selecting any country name in cell M5, the row that contains that particular country name within the range of L8:P61 is highlighted in blue.
Submission
Reply to this post with your formula code and solution file. Please be sure to blur or hide your formula code.
Period
This workout will be released on Monday March 30, 2023, and the author's solution will be posted on Sunday April 05, 2023.
Good luck!
Ilgar Zarbaliyev
Challenge #2.xlsx (8.3 MB)