Hi all
I am attempting to implement row level security (to determine which users can access specific rows within a Power BI report) and I am required to create a sort of bridge table that contains the required combinations of User IDs and Group IDs. I have not had any joy achieving this within Power Query. Again
The general logic is that all region managers (IDs highlighted yellow) should be able to access their own group as well as other groups within their region) but with a twist; group managers should be able to access only theirs and other group manager rows but not the regional manager group information). Sigh.
Hopefully makes more sense on viewing that attached images.
Current state:

Desired outcome: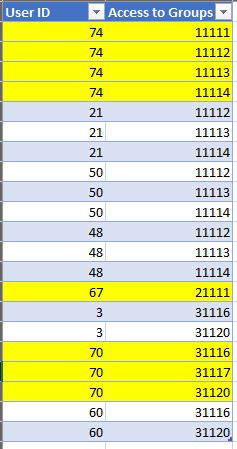 It really would be great if this could be done dynamically within Power Query as that seems more efficient and also because it might be even more difficult for me to produce the DAX code to achieve this.
Comments and suggestions as always much appreciated.
Thank you.
Bridge Table.xlsx (15.1 KB) Creating a bridge table.pbix (17.5 KB)