For several days now and after watching many Enterprise DNA tutorials on segmentation and categorization, I regret to note that I need help developing the correct count after applying segmentation.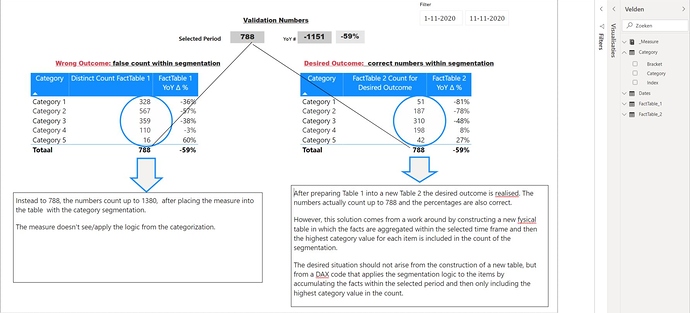 Instead to 788, the numbers count up to 1380, after placing the measure into the table 1 with the category segmentation. The measure doesn't see/apply the logic from the categorization.
After preparing Table 1 into a new Table 2 the desired outcome is realised. The numbers actually count up to 788 and the percentages are also correct.
However, this solution comes from a work around by constructing a new fysical table in which the facts are aggregated within the selected time frame and then the highest category value for each item is included in the count of the segmentation.
The desired situation should come from a DAX code that applies the segmentation logic to the items by accumulating the facts within the selected period and then only including the highest category value in the count.
The screenshot below is a schematic representation of how the DAX Code should apply the segmentation logic which should lead to the desired outcome!!

Also a screenshot of the Data Model as it is now drawn up, but I suspect that the Category Table that represents the logic should not be linked to the FactTables?
All additional requested items such as PBIX file and Excel MockUps have also been added.Enterprise DNA_Forum Question.pbix (1.0 MB) Desired Outcome Schema.xlsx (12.5 KB)