OK, here we go! Problem of the Week #3 is now live!
For background on this initiative, check out this post and this week's launch video
that Brian and I did on YouTube.
Background on this week's problem
Timesheet data is common to many organizations, and the associated wage costs often are subject to certain rules. Employees are often paid wages based on how many and when hours are worked, and in this exercise, employees are paid as follows:
Normal hours (up to 8 hours per day) are paid at straight time
Overtime hours (above 8 hours per day or on weekends) are paid at time and-a-half
Holiday hours are paid at double-time
Time data is pre-loaded and modelled in the attached PBIX file, with one time entry per employee per day, one timesheet per employee per week, one year of data (employees work every day; not realistic but perhaps useful for an exercise), ten employees and their hourly rates, and three departments. A connected standard dates table and a disconnected wage type table are also provided.
Your task
This week's Problem of the Week consist of two parts:
Part 1 is to pursue and develop two DAX solutions, one purely using measures, and one using purely calculated columns, to calculate and present the hours, wage type, and wages by month, employee, department, and day type.
Part 2 of the task is to describe the pros and cons (or benefits and limitations) of each approach.
We encourage you to identify any difficulties or issues, and hopefully the robust community discussion will provide direction. Learning is not the destination but rather the journey, so effort rather than achievement is the goal.
Important
We ask that if you post anything directly related to a solution to please use the "Hide Details" or "Blur Spoiler" options within your post. This will prevent people who have not yet completed their solution from seeing things they might not want to see yet and could influence their solution.
To use these options, just select the text or image you want to hide, click on the gear icon on the top right at the top of your post and select either Hide Details or Blur Spoiler.

Note that this is a DAX-only challenge, so no Power Query even if that is what you would choose to use outside of this challenge.
Eligibility for the Drawing
To encourage participation, we will be doing a drawing of five random participants each round to receive one of these cool Enterprise DNA vinyl laptop stickers: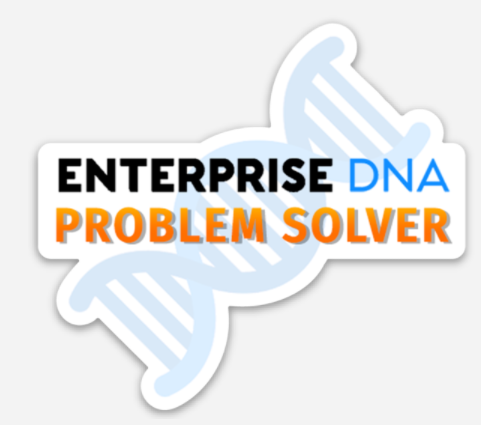 To be eligible for the drawing, just send an email to problemoftheweek@enterprisedna.co before 11:59pm ET, Tuesday, January 12, 2021 indicating you've successfully completed the challenge, and please provide your mailing address for us to send the sticker if you're selected.
We hope you find this initiative fun, challenging and helpful in continuing to build your Power BI skills. All of the information you will need is contained in the files within this post. If you have any questions or comments, just message @BrianJ or @Greg in this forum thread.
Good luck, and enjoy!!!
Greg
P.S. Your feedback is always welcome, and if you have a real-world problem that you think might make a good future Problem of the Week, please email it to us at problemoftheweek@enterprisedna.co.
Thanks!
eDNA POTW 3 - Timesheets and Wages - DAX - January 2021.pbix (664.4 KB)