Hi all,
I trust you've all been awaiting this moment with the greatest anticipation…
Well the wait is over, it's the 3rd Wednesday - here we go! Problem of the Week #12 is now live!
You might be wondering, didn't we create a Perpetual Holiday Calendar already?


And the answer is, yes we sure did! That was eDNA's maiden POTW DAX Challenge and now we get to do it all over again using only Power Query/M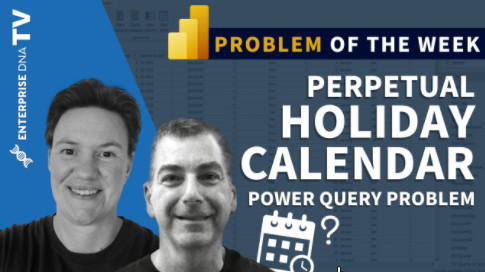 Background on This Week's Problem
Creating a holiday table is critical for a number of time intelligence calculations, most commonly calculating net workdays. In creating a holiday table, most commonly dates are pulled off the web. This works fine if the dates provided are specific, but often times (e.g., on Wikipedia) the dates provided are relative, e.g., third Monday of January, fourth Wednesday of November, etc.
.
Your Task
This week's Problem of the Week challenges you to take this mix of specific and relative dates for US holidays, and create a Holiday table in Power Query with Dates for each holiday, dynamically for all Years included in the Dates table.
Once you've done that add a column that calculates the "Celebrated On" date using the following rules:
if the Holiday Date falls on a Saturday, the Celebrated On date is the immediately previous Friday
if the Holiday Date falls on a Sunday the Celebrated On date is the immediately subsequent Monday
Note that this is a Power Query-only challenge, so no DAX even if that's what you might choose to use outside of this challenge.
.
Not familiar with the M language?
Go on a M function scavenger hunt, here:
.
Not an Enterprise DNA member?
These POTW challenges are open to everyone. However you won't be able to post in the thread yourself but you can submit your solution to the email adress listed in the next paragraph.
eDNA will then post your solution, here, for you.
.
Want to show the world you're an eDNA Problem Solver?
As always, from the entrants we'll be drawing five random names at the end of this round, who will receive a very cool Enterprise DNA vinyl laptop sticker.
To be eligible, all you have to do is submit your solution and send an email to problemoftheweek@enterprisedna.co before 11:59pm ET, next Tuesday. Don't forget your mailing address, so we know where to send it
and indicate that you'd like to be considered for this POTW#12 draw.
.
Here's the file:
POTW 12 – Perpetual Holiday Calendar.pbix (664.9 KB)
.
Best of luck and enjoy!!!
Melissa