Here's Alex's entry for Power BI Challenge 7. @alexbadiu, feel free to add other details of your work.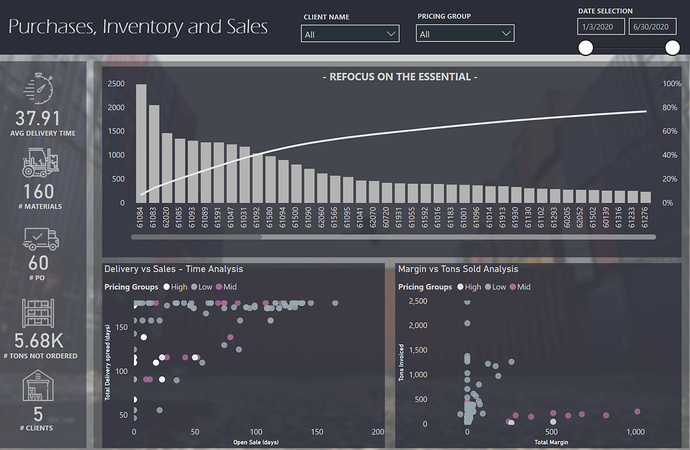 Here is the link to the report:
And here's how Alex described it:
I tried to focus on the essential and be clear on the message I wanted to send.
The first decision I made was to concentrate only on the POs and the corresponding Materials that are present in Purchase/Received & Invoiced Table. This is the reason why the numbers might seem a little bit different then in the other entries.

The second (difficult decision) was to decide what are the best visualizations to choose in order to be clear, concise and still provide flexibility to the end user.

My main problem was that in a 1 page report it is more difficult to imagine and create a story. I did not want to create a page of only KPIs and information spread across the page.
As in every report I want my audience to know or do something. I summarized the whole report into one sentence that I put in the middle of the Report:
" Refocus on the essential "

I spent a lot of time trying different approaches to present the data but finally the best combination I found is using the following charts:

The Pareto Chart

I placed the Pareto Chart strategically in the top of the page. It is so central that is difficult not to see it from the start. I ve chosen that place because that is where my story starts.
What are the materials you want to see and analyze? Doing so, I do not put the end user analyze all the data, I encourage them to take a certain path.
And for me, the best path is to start with volume.

The Scatter Charts

The Scatter charts have many advantages. They are easy to understand, and provide a lot of information if you use it with groupings, good X/Y axis, tooltips and interactions.
Once again, I found the combination of the scatter charts and the Pareto to work very well.

I think I did not do anything too difficult or extraordinary in this challenge, but I spent a lot of time thinking about details and trying all kinds of analysis. In the beginning I wanted to go with cohorts, spent a lot of time on that, and with Brian's help I succeded to create it… but still I had to let it go.

This challenge for me was about simplicity, about going to the basics, at taking the time to think and present something clear and simple.
In one sentence I summarize my analysis, my recommendantion and the call for action
REFOCUS ON THE ESSENTIAL

Colour Theme

Please find below the theme used for this report. (photo and colours hex):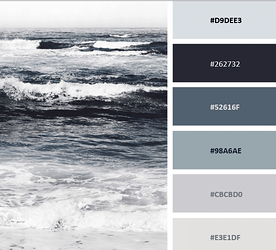 To learn about the real-life scenario presented for the challenge, be sure to click on the image below.