Here's Zoe's entry for Power BI Challenge 11. @datazoe , feel free to add other details of your work.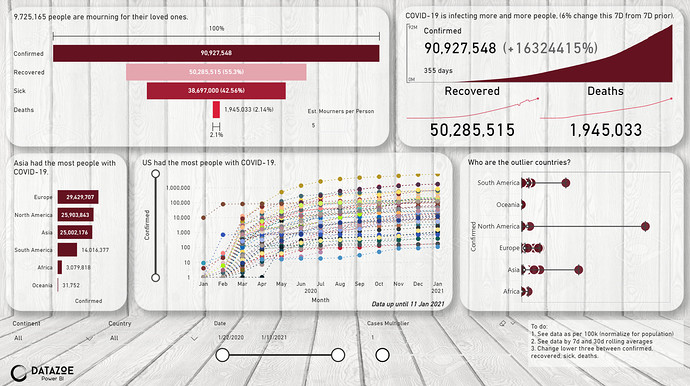 Here's how Zoe described it:
Here is my submission. I still have some things I want to add but it will have to be added in v2 later as I only had a few hours to work on this one.

I added two parameters. The first one is to estimate the number of people mourning for their loved ones. I think this is an important impact of COVID-19 deaths. The second one is a cases multiplier. I added this one after articles saying the number of people reported as having COVID can be much lower than actual, due to mild sickness/asymptomatic or when many people get it in the same residence. After the first person is positive they no longer need to test to realize they have it, so it won't get reported in official numbers. This is important for the deaths % of confirmed, and also confirmed per 100k population views (I haven't added population yet!).
To learn about the real-life scenario presented for the challenge, be sure to click on the image below.