Hi @BrianJ, having the same issue with the link. Currently 1427hrs in Auckland 17/11/2021 or 11/17/2021 if it helps…

@stevens ,
Hmmmm… Is that still after I replaced the Google Drive link with the actual PBIX file in the first post in this thread?
If so, can you please screenshot whatever error message you are getting so that I can engage the @EnterpriseDNA support team in fixing this problem.
Thanks!
Hi there,
I need some help please. I am working on top left challenge and have worked everything out except for the conditional formatting of the lines. My measure "Best/Worst Colour" is light grey and I cannot select it.
Any tips on how to fix this?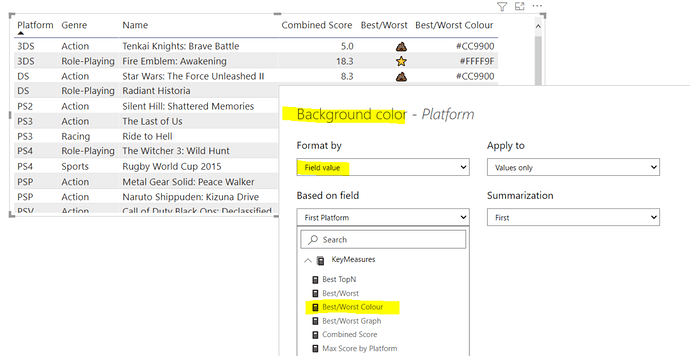 @Kim,
When you are using the Field Value option, Power BI actually does an internal check and if the result of your measure is not a proper match to the conditional formatting category, it won't let you use it. Thus, I'm almost positive that if you look at the code of your measure, the result is either a named color that PBI doesn't recognize or an invalid hex code.
Hi Brian,
It is a mystery to me, as I also tried changing the measures to colour names (Ocher and Gold) instead of hex code and it still won't work.
@KimC ,
Try putting the measure in the table in context (not as cond formatting) and see if it returns the values you think it's supposed to.
If that still doesn't resolve it, please post your PBIX. Thanks!
Please see attached file. It should work!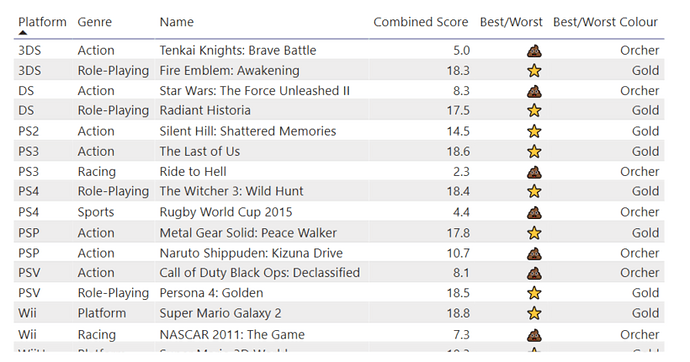 Accelerator Week #7 -KC.pbix
(273.1 KB)
@KimC ,
Try "Ocher" rather than "Orcher".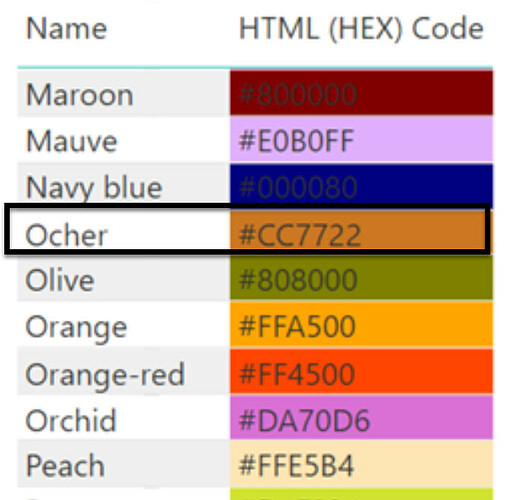 @Brian, tried that and still no luck
@KimC ,
OK - one weird thing is that the named colors recognized seem to change over time at the margins. Perhaps you just picked one of those weird color names that fell off the list. Try replacing "Ocher" with "orange" and see if it still throws an error.
No luck with Orange either
@KimC ,
OK, I'm out of bullets for the moment. Can you please post your PBIX file so I can take a look and try to figure out what's happening here? Thanks!
No rush Brian, but it is driving me crazy! I have attached the file a few posts ago. Thank u
@KimC ,
Sorry - I missed that. Taking a look now…
@KimC ,
It's the 0 hiding at the end of your SWITCH(TRUE()) statement. That's not a valid hex code or color, so the Field Value won't accept that measure. Swap in BLANK() for the 0 and it now runs like a champ…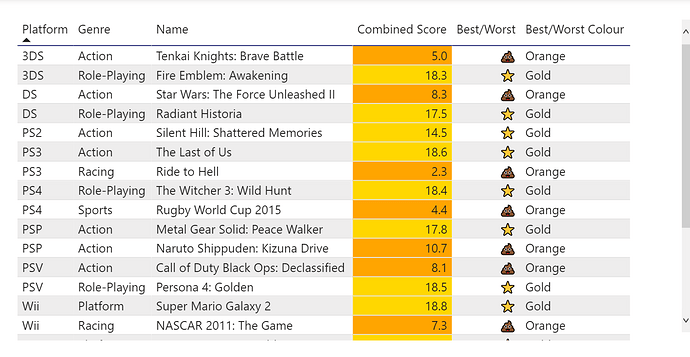 Thank you Brian, so simple when you know!
@KimC ,
Glad I could help. I think we all just flip between these two states…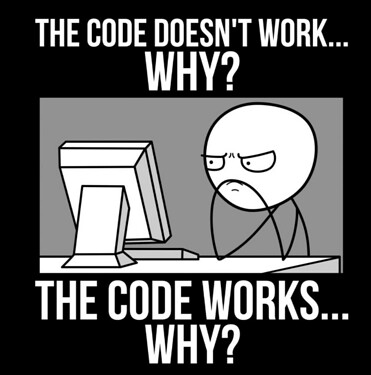 Hi Brian:
I can't access what's behind the "Highlighting a Row - Table" and "Complex DAX Conditional Formatting Example" comments. Whether I click on the hyperlink, down arrow or in the comment itself, I'm thrown back to the Forum Home Page. Perhaps, it wasn't the intent to get inside those comments?
Regards,
John Giles
works fine for me, the posting comes up
thanks
Keith