All,
In this week's Accelerator, using a dataset on worldwide videogame sales, we explore many of the different ways you can employ conditional formatting to highlight key trends, patterns and findings in your data and increase the effectiveness of your visualizations.
The expansion of conditional formatting within Power BI over the last couple of years has been one of the most valuable updates IMO, and the addition of the option to conditionally format based on Field Value (as opposed to Color Scale or Rules) allows you to leverage DAX to carry the load on conditional formatting tasks, as opposed to making you repetitively go through cumbersome interactive menus.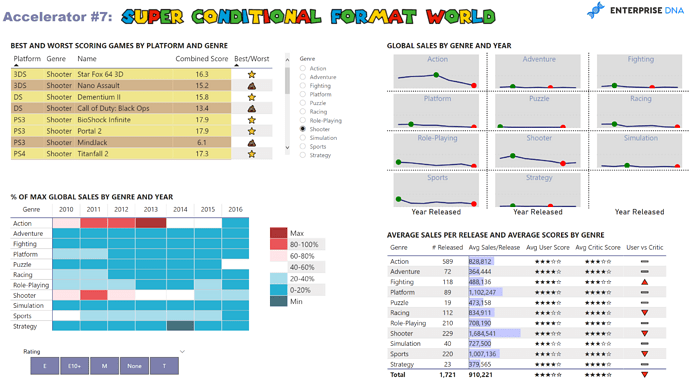 So, for this round of Accelerator, I've created a series of four mini-challenges, each employing one or more conditional formatting approaches. By the end of this lesson, you will be an advanced conditional formatting ninja, able to transform your DAX measure table into a conditional formatting powerhouse.
Detailed instructions for the mini-challenges are contained in the attached PBIX file, along with the data. Here is a Publish to Web link to my solution.
Due to the Thanksgiving holiday in the U.S. and the concurrent release of Data Challenge #17 today, we are giving you an extra week to complete this problem set, with the Live Solution Session scheduled for 5pm ET on Wednesday, Dec. 1. (signup link coming soon).
As always, thanks to @KimC and @eric_m for their outstanding input as members of the Acclerator Advisory Team, and thanks to all the Accelerator participants. (Note: even if you haven't been participating in the past - this exercise is really a standalone and you can jump right in now).
Enjoy!