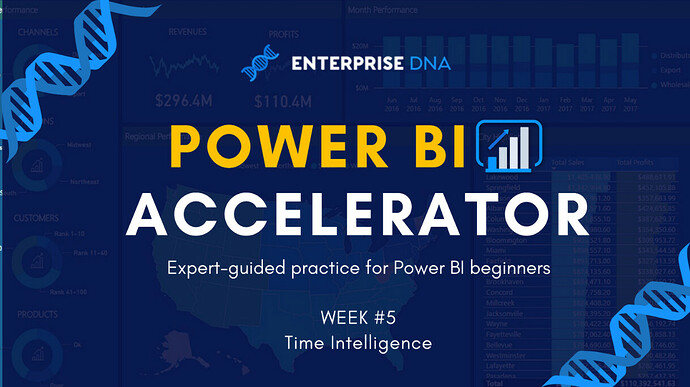 All,
In this week's Accelerator, we continue our exploration of the IMDB movie dataset, with a particular focus on Time-Intelligence analyses. At some level, these are just applications of the same DAX filter and row context issues we've been discussing since the start – they just happen to be applied to time-related issues. However, there are some very commonly used time intelligence patterns that have tremendous analytical power, and this problem set attempts to provide you a quick tour through those particular analyses.
As we continue to assess and revise the implementation of Accelerator, we are trying something new this week - Bonus Problems. The primary problems for the lesson are the ones to the left of the vertical blue line and the ones to the right are bonus problems.
If you complete the left-hand side analyses, you will have met the mission of this week's exercise and gotten good experience with many of the key TI analyses and patterns. However, for those who want an additional challenge, we've added two more questions at increasing difficulty. Please consider these entirely optional, as they will take you well beyond the 1-hour target time.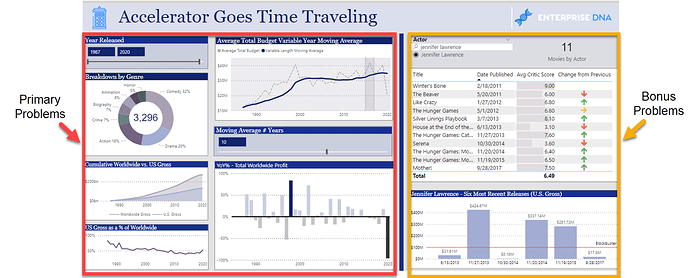 Here's the Publish to Web version of my solution that you can play around with to explore the various aspects of the problem set.
I've tried to include detailed instructions regarding each visual in the attached PBIX, but if anything is unclear, please just give me a shout in this thread.
As always, even if you haven't been participating to date, feel free to jump into Accelerator at any time. You can find all the past exercises and solution videos and resources here in the portal.
I hope you enjoy this one - I had a lot of fun putting it together. And huge thanks to @KimC and @eric_m for their prompt review and invaluable insight and guidance.
Note that the members-only live solution event will be at 5pm EST on Wed. September 22 (so you've got some extra time to dive into the bonus Qs if you're so inclined…). I'll post a registration link early next week. Have a great weekend!