Hi,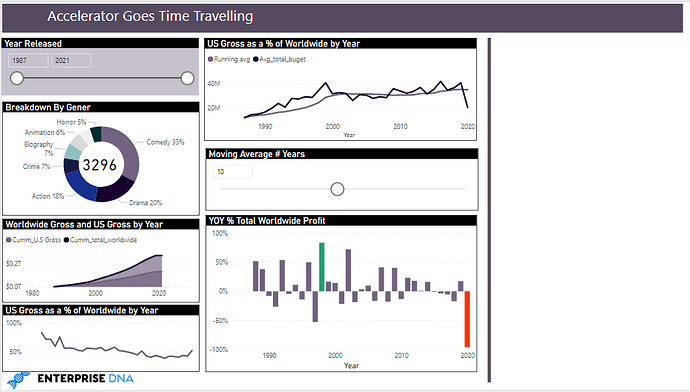 It is my submission of week#5 .
Now will start on bonus part.
Enterprise DNA Power BI Accelerator – Week #5 Problem Set Final.pbix (17.1 MB)
@Eze ,
Thanks for participating! Definitely on the right track so far, with most of this looking reallys good, but there seems to be a problem with the calculation of your YOY% measure. If you want me to take a look, please just post your PBIX file in your post and I'll be glad to do so.
@Anurag ,
Looking spot on - nicely done!
Thanks for participating!
Thanks @BrianJ , I have attached the file on my earlier post.
Getting there. I have the card filtering for movies by actor, but I'll need to review the video that @BrianJ posted above to solve the table filtering.
I actually like that the data model isn't ideal in this way because it provides an opportunity to learn something a little more advanced on the DAX side.
As always, thank you for these Accelerator exercises.
I finally completed the bonus questions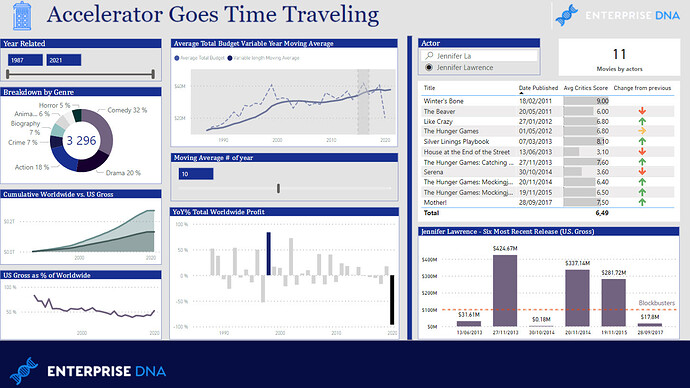 I'm not satisfied with the "Change from previous" mesure because it takes more than 20 seconds to update and this is horrible. I definitely need to improve it and any help or guidance will be appreciate.
Here is my solution :
Notes:
For the bonus questions, I defined a one-to-many relationship between the 'Movies' to 'Actors' tables and fixed the "Cross filter direction" to both even if it is not recommended. At least, this added interaction between the 'Actors' slicer and the "Table" and "Column" chart.
However, to keep everything on the same page and not rewrite the measures, I just disconnected the Actors slicer from the visuals concerned by the main questions, and I also disconnected the Dates slicer and the donuts chart from the visuals concerned by the bonus questions.
Hello Brian:
Here is my submission for the "required" section of Accelerator 5.
I will address the "bonus" section over the next few days.
I know there may be errors here because two of my visuals (Budget vs Moving Average, Total Worldwide Profit) differ from the Mockup. I've checked my measures, they look correct. I'll look at them again after I've cleared my mind.
Also, on the Breakdown by Genre Donut Chart, the data card in the center of the donut disappears when I click in the Donut visual. It reappears when I click outside of the visual. Again, I'll look at it again; perhaps the benefit of time will reveal the error.
Regards,
John Giles
Enterprise DNA Power BI Accelerator – Week #5 John Giles.pbix (17.1 MB)
Hi all,
Here is my submission for the Power BI Accelerator - Week #5
Best regards,
Joaly
Hi Brian, waving the white flag on the extra points. Have perused the other models, watched your video and still cannot figure out the filter process. I have a commercial model that I manipulated power query to provide a first letter column that allows users to narrow the search by selecting a letter then a second filter to select full name. It is always irksome when using the model. The model could really use your technique so looking forward to seeing the run through.
@stevens ,
Absolutely no shame in that. My dad always says, "when you find yourself in a hole, stop digging". Being incredibly stubborn, I rarely take that advice and then frequently fall back on this strategy, intellectually knowing it won't work: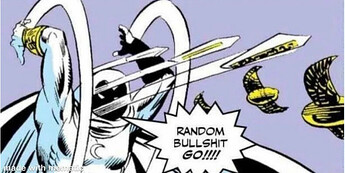 All I end up doing is wasting time, usually on "worst practices". Having given it a full effort, and then stopping at a sensible point, the solution will be a lot more resonant, so I think you'll find even though you didn't get to the goal line this time, it will have been time well spent. And bookmark that post above - I'm willing to bet by the end of Acclerator you will find yourself successfully solving similar problems.
@JBocher ,
Beautiful! Incredibly creative and efficient solution on the previous score exercise. The only other person I've ever seen use that particular approach is @AntrikshSharma, and it's a perfect application of the technique. And flawless DAX work on the most recent 6 grosses.


All,
I've started working on my entry for Data Challenge #16, and wanted to say that that this one is a perfect complement to the work we've been doing in Accelerator. The data are already very clean, they set up quite easily into a perfect star schema, and even if you're still wrestling with some of the filter and row context aspects of DAX, you should have more than enough tools in your belt to produce a really nice entry.
And the timing works quite well too. You'll have at least a week of peace and quiet from Accelerator while the Advisory Team and I are designing the Week #6 problem set.
No pressure - I know many of you are already putting in lots of time on Accelerator, but if you have the time and inclination to give it a go, I think you'll find it to be a great way to apply and reinforce the concepts we've been working on here, as well as a hell of a lot of fun.
I finally was able to write a more performing code for the "change from previous" measure. I got the solution from the work I have done in the Challenge 15.
Now its time to move to the Challenge 16
Hi @JohnG, to stop the card disappearing when you select the pie chart: select them both together, right click and group the two objects together. You can still alter each component by double clicking on the component you want to alter.
If you alter your Budget MA measure as follows the graph will read as per Brian's.
Currently: Budget MA =
CALCULATE( [Budget Average], DATESINPERIOD(Dates[Date], LASTDATE(Dates[Date]), * [MA Years Selected], YEAR) )
Change to: Budget MA =
CALCULATE( [Budget Average], DATESINPERIOD(Dates[Date], LASTDATE(Dates[Date]), -1 * [MA Years Selected], YEAR) )
Hello. I'm enjoying another great Accelerator!
Some things are starting to click. I finished the primary problems solely based on the Accelerator recommended resources and other EDNA forum posts. The bonus problem is another matter. While I'm still working on the movie list, my recent releases visual has me confused.
[spoiler]
Recent Releases
I essentially was using the same technique as the movie list but was going to use the visual's Top N filter to limit to the most recent release dates. But all the data disappears when I add the Top N filter. Not sure why that would happen. Any thoughts? This visual is currently just a table while I get the measu
[/spoiler]res correct.
Enterprise DNA Power BI Accelerator – Week #5 Brad Boehnke v1.pbix (17.2 MB)
Thanks for the help.
Brad B
Thank you, Steven. Much appreciated.