HI,
I'm looking for a simple solution to create a multi level ranking for the model attached. There is a very good demo (https://www.youtube.com/watch?time_continue=291&v=QiWkg0scJHo&feature=emb_title) of this on edna, however, it never uses the subset (only the full table) which unfortunately, I cannot seem to get around.Edna - multilevel ranking.pbix (22.3 KB)
The goal is to rank by:
Start Date (ascending) > Total Quote Value (descending) > Created On (ascending)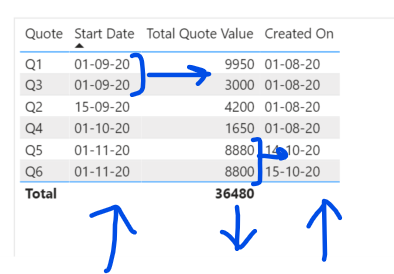 This should preferrably result in a new rank value overall. I intended to do this by multiplying the ranks for each and then adding them up.
Example: 100 + 10 + 1 => 111 (is first)
Attached a sample pbix.