EDIT – added model diagram
Hi all, newbie post here. I have searched all over for this but not sure I am asking the right question and all hits are usually not quite what I want. I am certain this is not new!
I have a fact table TIMESHEET, dimension STAFF, and JOB. Staff is active one-many relation to Timesheet. Job also 1-many to Timesheet. Now, here comes the question.
JOB has a ManagerID (FK to Staff[StaffID]). But I cannot relate Staff to it except in an inactive relationship (which I have done), Staff one to many Job on ManagerID.
So I want to analyse time by Manager and Job with Manager Name or other Manager fields …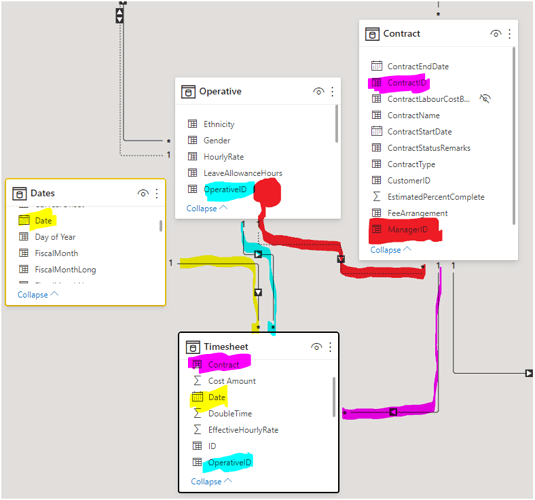 Can anyone point me to a pattern that does this? I have looked at lookupvalue related relatedtable treatas all without success and I have read the role playing dimension stuff over and over thinking this is nearly it but isn't… Help?
Thanks all.