Hi,
Please help with DAX to accomplish the following?
Background: For each vehicle many jobs are performed at various date intervals. Each time a job is performed, the date (JOB_OPEN_DATE) is captured. Below in the table you can see the JOB_OPEN_DATEs when different jobs in the JOB column were performed at various dates for one selected vehicle. (There are of course many more vehicles.)
Question: I don't want to display the actual date when each job was performed as you can see in the below table, but rather the difference between each date and the previous date for each job - in number of days. This is to see clearly the interval (in days) at which the jobs were performed. This means e.g. for the first Job 06-02-005, 2021 June should display (2021-06-23 minus the previous 2020-06-17) = 371 (days). In the same way, 2022 July should display (2022-07-05 minus the previous 2021-06-23) = 377 (days).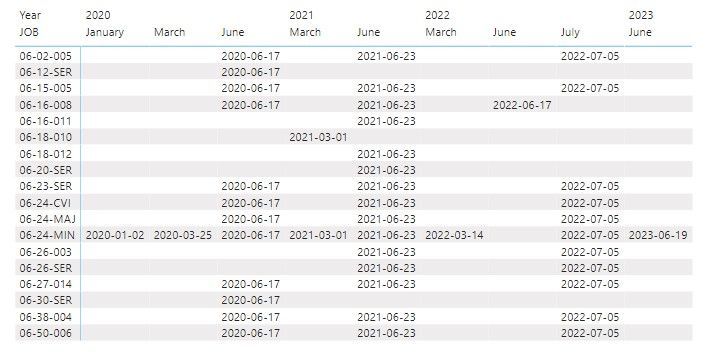 All the data is captured in the same WO_JOBS table. Here is sample data from this table.
The data captured in Power BI here.
PLEASE NOTE: the interval between the various jobs differs. Some happen every two weeks, others once a year, and everything in between. The DAX should allow display/drill-down to at least week level, and not only month level. (Jobs ending with BIW are bi-weekly jobs.)
One would typically filter on a specific vehicle to monitor service intervals for its many jobs.
With thanks,
William