Hello,
I am trying to calculate difference between two columns in two separate tables, in a new column (a measure would be fine too)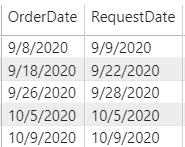 Column 1 - REFUNDS_TRACKING[RequestDate]
Column 2 - REFUNDS_PRODUCTS[OrderDate]
let's call the difference between two columns = ReqDays



I have the calculation below on two columns in the same table to calculate days in between.
= DATEDIFF( REFUNDS_TRACKING[ReturnDate], REFUNDS_TRACKING[RefundDate], DAY )
but this does not work in this case.
Really appreciate any tips/help.
Thank you,
Nipuna