I am working with Dataflows for the first time in a while, and encountered a strange behavior I can't explain.
When using the Query Editor, "Reference" is supposed to take the result of the referenced query, after all the transforms are done, right?
When Query B references Query A, I expect both to have exactly the same schema/columns/types. That isn't what's happening.
Here's Query B:
let
Source = #"Query A"
in
Source
Query B has the schema of Query A after like 5 steps were applied.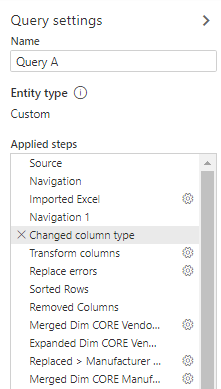 What's going on? I've tried refreshing the entities, but didn't help. Why would "Reference" ever end up with a different schema?
I'm missing transforms 6 - 50, which merge in other queries and add columns. Those columns are present in the result of Query A but missing entirely from Query B.
This link indicates that every step of Query A should be encapsulated in Query B. That's also the behavior I've seen in the past. However, in this case Query B is not encapsulating the entire set of applied steps, else the schema would be the same…