Workout 012 – Quadrant highlighting (Scatter chart, table)
Difficulty rating: 4.75 out of 5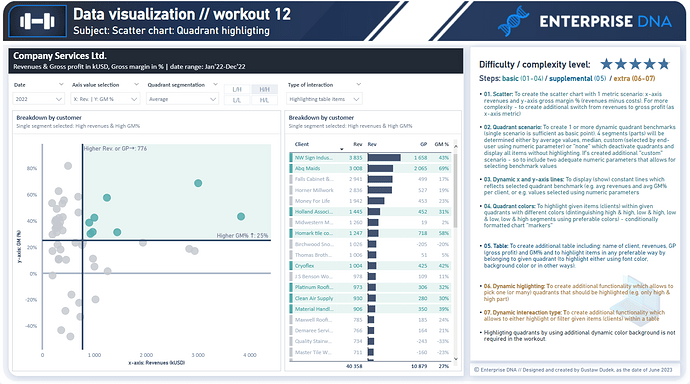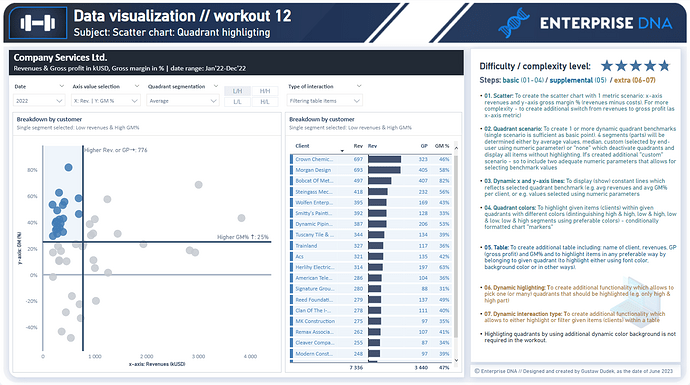 Intro note
This workout combines various visualization techniques. The most important part of the workout is practice - entries does not have to include every element or functionality to be still considered as great . Please pay attention to the list of functionalities (provided in the screenshoot and in published-to-web report), which includes 'basic' elements (1st-4th point), supplemental (5th point) and extra (6th - 7th points). I would kindly recommend to review blue section before executing orange section to provide proper flow of your work.
A good starting point is to implement basic points by creating a scatter chart with two fixed x-axis metrics (revenues and gross margin %), creating 1-2 benchmarks for determining the quadrants (4 separate parts that could be described as high & high, low & high, low & low, high & low segments, basing on given metrics and benchmarks). Realizing further points (blue and orange) will provide additional technical practice.
Presented images and gif present additional dynamic color background for selected quadrants, although it's not required in the workout.
Following workout bases on the dataset that was provided during the workouts 002, 005, 006, 007 - . If you have participated in abovementioned workouts - you can still use your already imported and fransformed database. Not all columns provided in the dataset have to be used in that particular workout but feel free to use other additional columns / categories if you'll find it useful.
**Also, feel free to use your entries as a part of your project portfolio, if it's instrumental in realizing your goals.
Goals
In this workout, using the supplied dataset and reviewing the provided interactive report (link below) we are going to replicate the set of visualizations (scatter chart and slicer section and optionally a table). Also, please feel free to add any extra visual if you would like to (provided that core visualizations are included in the first place).
012 - Workout - Quadrant chart.xlsx (110.9 KB)

Core actions (practice) :
Creating dynamic metrics for x-axis or y-axis in scatter chart

Creating dynamic contant lines (average, median, custom selection)

Incorporating Dax to identify given quadrants in scatter chart (based on average / median / custom selection)

Using conditional formatting (highlighting given items)
Submission
Please load the supplied data (xls file) into a Power BI file, replicate visualizations (considerating list of points in the introductory report screenshot and the general design and functionality provided through interactive published-to-web report), and reply to this post including the screenshot (or a gif) of your solution along with the pbix file (please, include name or EDNA forum nick in the pbix name).
Period
This workout is released on Tuesday June 12, 2023, and the author's solution will be posted on /Tuesday - Wednesday 20-21 June, 2023.
Additional materials
Link to the interactive dashboard: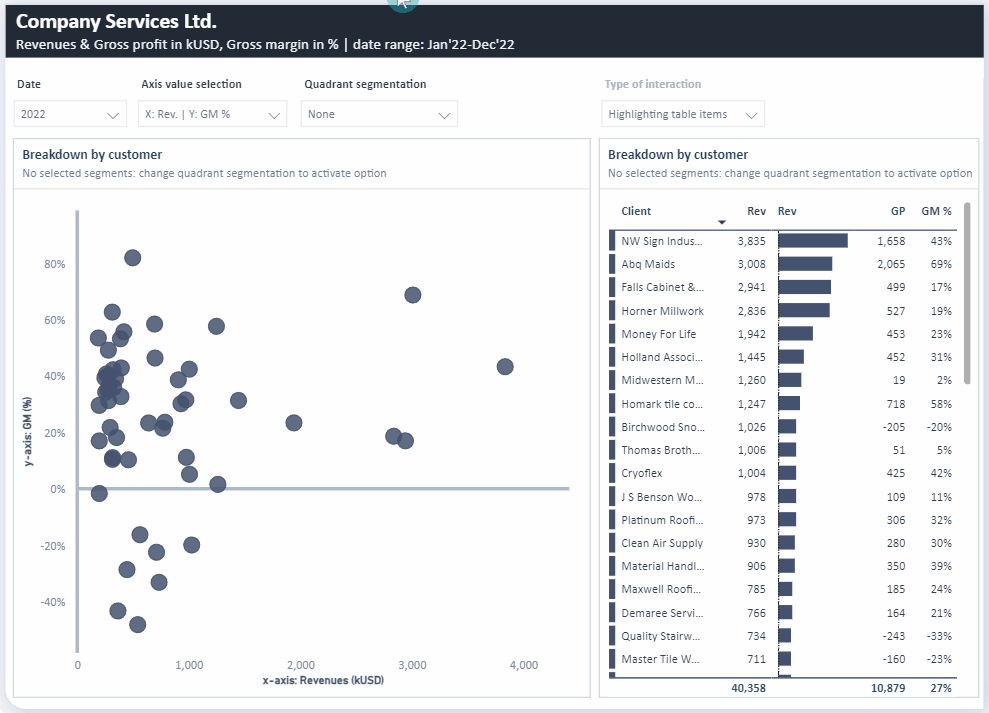 Have a great fun!
Best regards!