Hello all
I have a two lightweight tables, one (Target table) containing records of non-financial goals for business units and when they should be met in the year. The other table (Goal Table) records what actually happened.
So far, so simple
I would like to find a way of highlighting goals that have not been met within the time they were meant to be met.
E.g. (please refer to image) when Unit 1, is selected, they are supposed to have achieved Goal 2 and Goal 5 in February and Goal 3 in April but did not.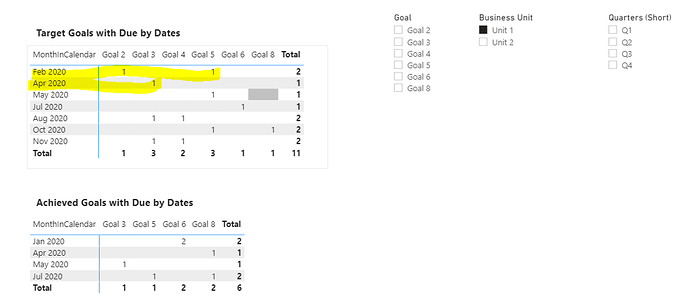 Is it possible to produce a table, or some other visual, that highlights targets that have been missed in a particular Date range?
I think this is possible but have no idea how how to start going about this so would very much appreciate the guidance or videos that can help achieve this.
Sample data model attached below.
Thanks
Test Data.pbix (62.3 KB)