Hi,
I posted this question on another thread but didn't get any traction as I may not have been crystal clear.
Here, I am trying again:
I am looking for customers who didn't buy certain products. Like here: I have these customers who bought certain products (A, B, C etc…).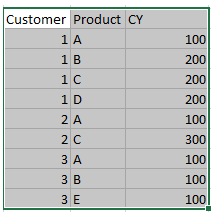 Here : Customer 1 bought A,B,C,D
Customer 2 bought A and C
Customer 3 bought A B and E
am looking for something like this:
Customer 1 is only prospect for Product E as they didn't buy E.
Customer 2 is prospect for everything except A and C…so on and so forth.
I am specifically looking for this in 1 table. Is it even possible?

I have uploaded the pbix here:
Thanks for your help.
-RK