Hi,
I'm stuck with a challenge I am hoping someone can help / assist me with. Or maybe there is something similar in Enterprise DNA library you can point me to?
Case scenario
The organizational structure I am working with is shown: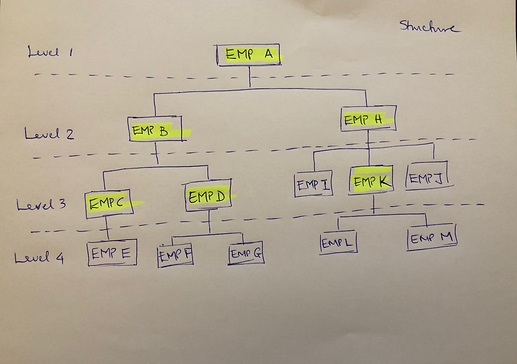 Metric scores are measured against each employees based on assigned weights to metrics. Department heads have additional weights for team score performance: they are measured for score based on the score performance of their direct reports (in addition to their own metric score). For example, Emp H as department head has a weight of 0.2 for team score performance (see attached PBI sample file). This will then be multiplied against each of the total scores of direct reports I, J, K for a weighted average result. The same is repeated for Emp K. but as Emp I & J are not department heads, they only have their score performance.
I have calculating the scores for all employees and created calculated columns for the path hierarchies (somehow, I believe this will be key?)
Challenge
Calculating department head score using weights as given in the table 'DeptheadWeights'.
Help anyone? Thanks in advance & much appreciate
Bare
Emp Dashboard.pbix (141.0 KB)