I know this is a very simple thing but after 2 days of trying everything to no avail, I'm not sure what I'm doing wrong.
I have an AWARD table that contains a part number, Award Qty and Award Status (which is a measure - see below).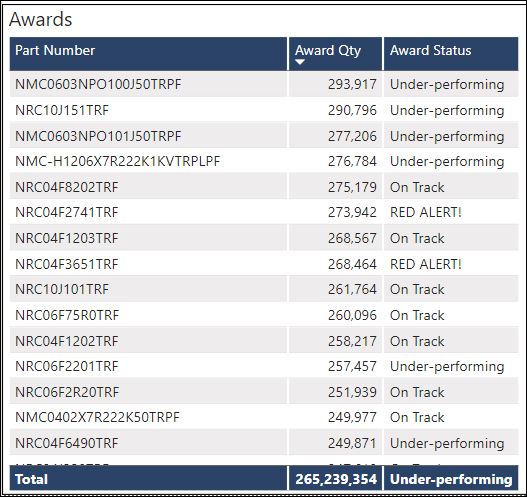 Award Status =
IF([Total Award Qty]= 0, "No Award",
IF([POS Qty During Award Period] = 0,"RED ALERT!",
IF([% of Award Complete to POS Qty] < [% of Award Complete to POS Days],"Under-performing","On Track")))
I created an un-related table 'AWARD DISPOSITION', which stores the Award Status values: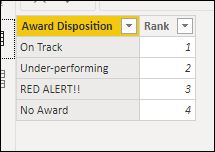 Out of many other measures I tried, I thought this one would work, but it doesn't:
Award Disposition =
VAR SelectedDisposition = selectedvalue('Award Disposition'[Award Disposition])
return
CALCULATE([Total Award Qty],
filter(PBI_Awards,[Award Status] = SelectedDisposition ))
The above Award Disposition measure returns blank. All I want is to have the slicer to filter my table based on the selected value. If I select 'On Track' from the slicer, then I need only those to display in my table.
Here's what it returns: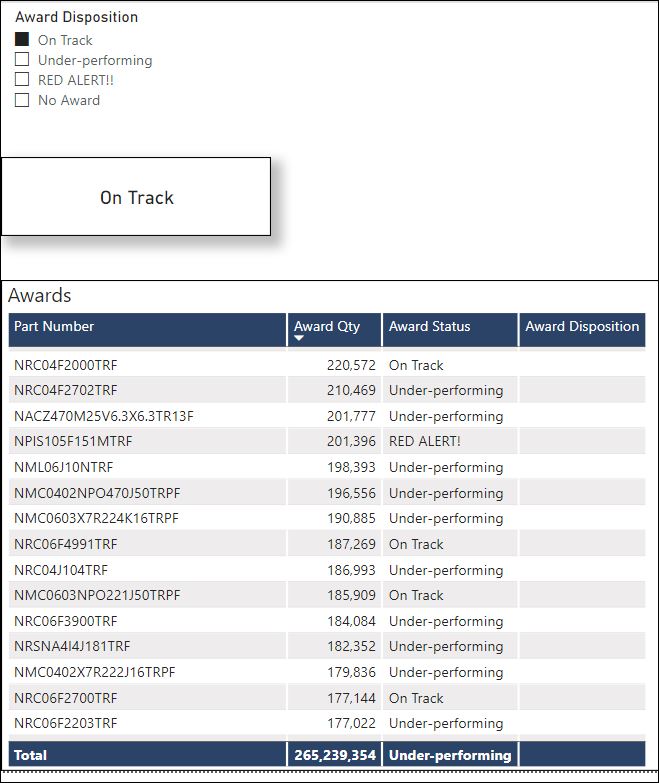 I've created many of these un-related tables and used as filters before, but they always referred to a measure which calculates something, like TOTAL SALES. In this case, I just want it to filter based on the results of a measure which results in a TEXT field (On Track, Under-performing, RED ALERT!!, and No Award).
Rose