Hi,
I am having difficulty to calculate Totals correctly in my virtual table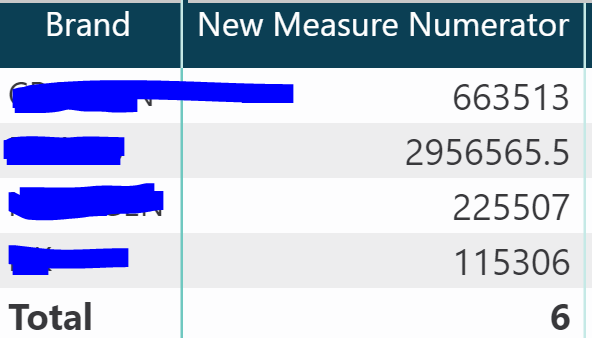 . Here is my code. Individual rows comes correctly. I put 6 over there to make a sense.
I just need to count a column to get value of 3,960,891.
I tried HasOneFilter as well but not sure, what to write on the second half of the IF statement?
    New Measure Numerator =
VAR __summarytable =
    ADDCOLUMNS (
        SUMMARIZE ( 'Sales Order Detail', Retailer[Retailer AB Number] ),
        "@Total", CALCULATE (
            SUM ( 'Sales Order Detail'[Custom Quantity] ),
            'Order Type'[Order Type Transaction Group] = "Sales"
        ),
        "@Brand Product Line Return Flag", IF ( ISBLANK ( [Return/Dump Quantity] ), "NO", "YES" )
    )
VAR __total =
    SUMX ( __summarytable, [@Total] )
VAR __returnstotal =
    IF (
        HASONEFILTER ( 'Product'[Product Marketing Brand] ),
        SUMX (
            FILTER ( __summarytable, [@Brand Product Line Return Flag] = "YES" ),
            [@Total]
        ),
        6
    )
RETURN
__returnstotal

Thanks,
Ritesh