Hi, I am attempting to calculate the Total Revenue for specific ITMCODE from the Sample Table attached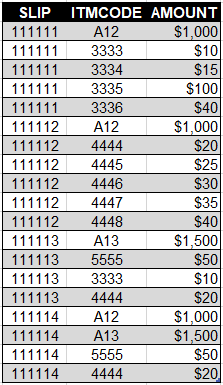 and output them in a format as following:

I have already successfully calculated the count and Item Revenue, however I am not able to formulate a proper formula to generate the Total Revenue. I have attempted to use ALL function as below but failed to get the correct results. (I still yet need to add in the formula to evenly split non-specific ITMCODE revenue under the specific ITMCODE)
Total Revenue = SUMX(VALUES('Sample Table'[ITMCODE]), CALCULATE(SUM('Sample Table'[AMOUNT]), ALL('Sample Table', 'Sample Table'[ITMCODE])))
Thank you in advance.
sample table.pbix (28.7 KB)