Hi all,
I've built a report set to be published in an app. There are 4 report sets (all linked to the same data model). I have them separate for two reasons
It makes the navigation easier to use as it creates natural sub headings
There are various stakeholders so the report sets are limited to only certain users using the new preview feature
However, the user would like to be able to set a filter on the first page and have it carry through. For example selecting the current month and branch and by default changing that view for all reports. Of course this worked when all the reports were in a single pbix but broke when the reports were split.
This image shows the 4 'report sets', which then if you expand shows a set of reports each. I'd like to be able to sync filters between these.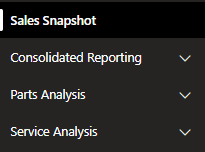 Is there anyway to have filters sync across reports published within a single app?
If not, is there an effective work around? I'm loath to rejoin the reports into a single view as the navigation is terrible without the sub-headers, and it would also stop me being able to create multiple audiences using the new app experience.
Thanks