I have Items table with start and end date.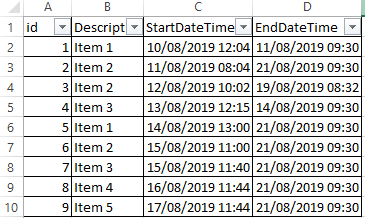 I have a DATE table that spans 01/08/2019 to Today.
Basically, I am trying to chart the items on a time series line chart with a time slicer to choose the dates of interest with. The challenge is the dates aren't consecutive in the rows, and span across the start and end date times. When I select a range of date, the ITEM list does not change to reflect the change in dates. Thought it could be a relationship that is missing, but tried that route with no luck. Any ideas please?
Attached is data sample in excel and .pbix file
Sample.pbix (118.4 KB) Sample.xlsx (8.9 KB)
Thanks