Hello,
I have a table that has IDs, the building they are in for that year, & their score. I am trying to count IDs that have improved their scores over the year.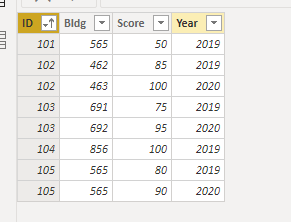 I have used the following measurement.
test =
CALCULATE(
COUNT('Table'[ID]),
FILTER(
ALL('Table'),
'Table'[Year] = MAX('Table'[Year]) -1
)

)
However, my outcome is not coming out as expected.


Please let me know if there is something I might be doing incorrectly here. I am attaching the file below.
Score_Improvement.pbix (25.0 KB)