Hi all,
I have to create a risk matrix and I want to use the Treemap visual. In the details of the visual I placed the fields with the Risk Classes: Low, Medium, High and Very high.
The problem is that the visual puts the different classes in an order that not suits my needs. What I want is the following order of classes in the Treemap visual: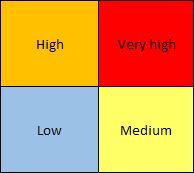 Unfortunately I can't tweak the order… So for example Very High is placed beneath and that doesn't make sense. Can someone please help me out? If there is a better visual for risk cases, it's all right too.
I have placed a pbix-file with some Sampledata.
Thnx!
Daniel
Risk matrix.pbix (29.5 KB)