Hi all,
Please see attached example: Stock Report Last 6 Months v1.pbix (119.6 KB)
My report is designed to show our stock position at End Of Month, for the last 6 months from my Stock History table.
I have a date slicer which allows the user to review the stock position on any historical date. This all works fine on Page 1.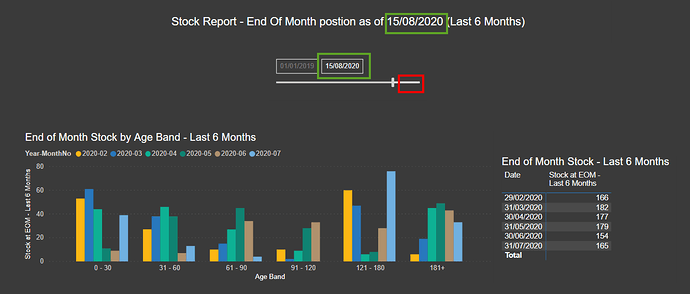 ---
However, I simply want to limit the date slicer so that it only offers dates up to and including today - not any future dates.
I have tried this a couple of different ways - See Page 2
1, Apply a relative date option to the slicer to return the last 500 days (including today)
2, Filter the visual using a calculated column 'Today or Prior' = Y
Each option changes the slicer so that it does indeed only offer dates up to the current date, however if I drag the bar to the right, to select this last and current date, my selected date returns 31/12/2020 rather than 15/08/2020 (today) and breaks the report:

If I drag it back one day to be the 14/08/2020 all works ok?
Any help greatly appreciated as always!!
Mark