Hi,
I have a Total Calculation that I cannot get to work and I am looking for some help.
This Gives me a Daily Stock Level for each Product @ Each Branch
Daily Stock =
VAR MaxDate =
MAX ( 'Calendar'[Date])
VAR MaxStockDates =
CALCULATETABLE (
ADDCOLUMNS (
SUMMARIZE ( FactStock, Products[ProductID]),
"@MaxStockDate", CALCULATE ( MAX ( FactStock[In/Out Date] ) )
),
'Calendar'[Date] <= MaxDate
)
VAR MaxStockDatesWithLineage =
TREATAS ( MaxStockDates, Products[ProductID], 'Calendar'[Date] )
VAR Result =
CALCULATE ( SUM( FactStock[Stock On Hand] ), MaxStockDatesWithLineage)
RETURN
Result
I then want to get the Product Total for All Branches
This works fine until I add the Supplier to the Canvas and I then have the Table in the Screenshot.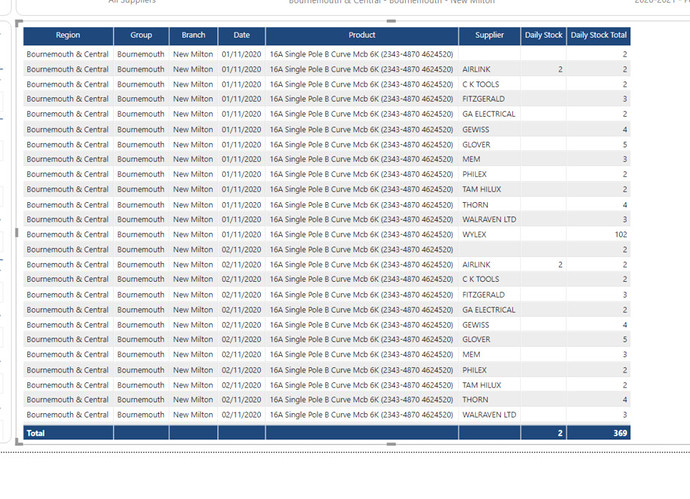 What I would actually want is 1 Line for each day that shows Airlink with the 2 and then Daily Stock Total should be the SUM of the other Suppliers and the Suppliers should not be on the Canvas as they do not sell at that Branch.
I can see that all Sales at all Branches are showing against the Other Supplier but how do I stop them from being displayed.
Any help gratefully received.
Thanks
Chris