All,
I've been wracking my brain on this one for a while, and am thinking it may not be possible but hoping some of you clever folks can prove me wrong.
I'm building a report that analyzes disaster preparedness exercises, and have a date slider that allows the user to filter the exercises by any time range within the fact table. However, I would like to have a series of "radio preset" buttons below the slider that allow the user to quickly switch the date range to common ranges for milestone reporting purposes - basically a reverse date harvest (see screenshot below).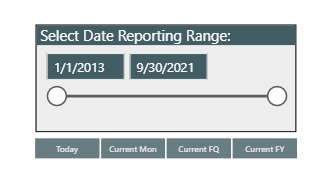 A couple of things I've already considered and rejected:
a) using a hierarchy slicer rather than a slider - this would let me get easily to these standard date ranges, but some of the users will want the full slider range available for quick sensitivity analysis
b) having users enter the ranges in the filter pane - not going to work well for my use case
I've attached a PBIX file with the extended date table, the slicer structure and a disconnected table of the preset options, along with some basic date harvest measures to try to make it easy for you to play with possible solutions.
Thanks in advance for your help - much appreciated.