I'm following Enterprise DNA seasonal decompose for powerBi tutorial and I'm stuck at power query section.
When I input the code in power query it gives me back this message


"DataSource.Error: ADO.NET: Python script error.
pandas._libs.tslibs.parsing.DateParseError: Unknown datetime string format, unable to parse: Microsoft.OleDb.Date, at position 0"
Seems to me that it is processing also the header but it can't read it as date string.
I don't know how to fix this, do you have any suggestion?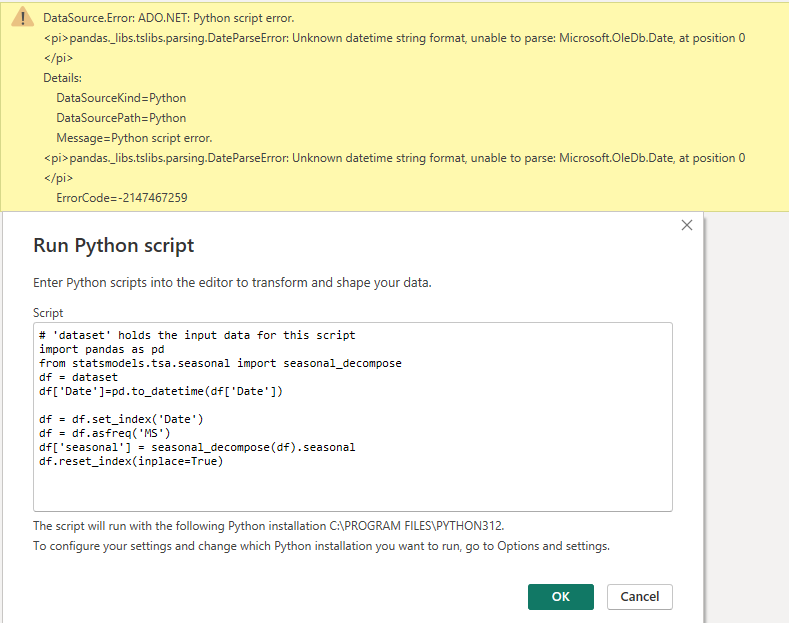 *** READ FIRST ***
Before you send your question.
Make sure that all details relevant to your question is complete:
Your current work-in-progress PBIX file - VERY IMPORTANT
A clear explanation of the problem you are experiencing
A mockup of the results you want to achieve
Your underlying data file
Check out this thread on Tools and Techniques for Providing PBIX Files with Your Forum Questions
Also make sure that your data file contains no confidential information. If it does, click the link above.
*** DELETE THIS MESSAGE IF YOU ARE SURE ALL YOUR DETAILS ARE COMPLETE OR IF THE ABOVE INFORMATION IS NOT APPLICABLE TO YOUR QUESTION.***