SampleFile.pbix (3.5 MB) Hello everyone, i use the great segmentaion pattern from the dax pattern site and get the right result for the this year values.
TransactionCount (Price Group) =
var TransactionsInSegment =
FILTER(ALLSELECTED('Transaction'),
var AvgSalesPrice = [Avg sales price]
var SegmentForPrices =
FILTER(PriceGroup,
Not ISBLANK(AvgSalesPrice)
&& PriceGroup[Min]<=AvgSalesPrice
&& PriceGroup[Max]>=AvgSalesPrice
)
VAR IsTransactionsInSegments = NOT ISEMPTY ( SegmentForPrices )
Return IsTransactionsInSegments
)
var Result =
CALCULATE(
COUNTROWS('Transaction'),
KEEPFILTERS(TransactionsInSegment)
)
Return Result
But I do not get any values for the same period last year.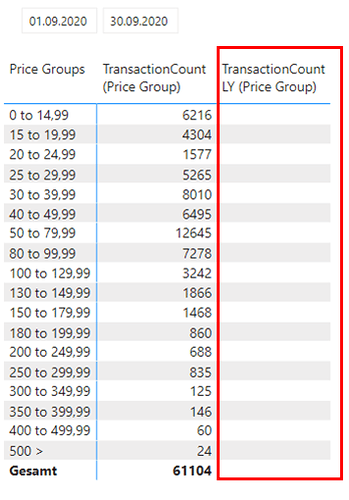 Does anyone have any idea how I have to change the formula. Here is an sample file, from my data model.