Hi,
Just after a bit of advice on the Query Editor.
In Excel or Power BI Desktop my query editor can take a while, sometimes seems like ages to perform a basic change like an whole column data type change, sort column, fill up or down etc. etc
In other cases quite quick.
Is this normal for a Data set of around 1 million rows? (Is this data set corrupt maybe)
My import method is in general a folder of Excel CSV files, text files or Excel table from SAP.
Usually I grab one large data set initially and then reference off the main first import query file to generate smaller lookup tables, I tend to use reference as I may add more files to a folder and I want my main source file to collect this data change and feed my smaller tables, don't believe Duplicate does that?
What is the best method to speed things up?
Would I better creating a tab of smaller table in an excel tab which in turn are linked to a query source data set so I have the ability to add more if needed.
Is there a limit? before my processor starts to burn out and run slow.
Running laptop I7 with 8 gig of Ram.
The attached video , the last query break off from the merged table query took 4 minutes to complete (Materials Query 25 Rows)
Almost like the data is being retrieved from a SharePoint server it's locally on the same PC.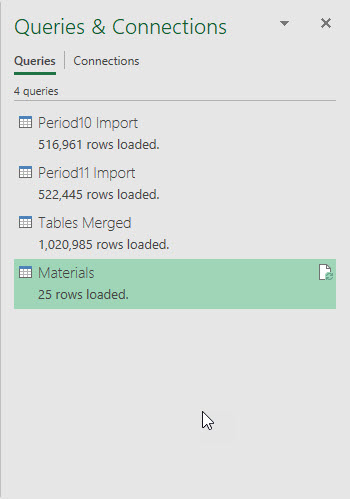 Thanks in advance
Darren