Hi all,
I have developed a suite of 'Usage Reports' based on the provided 'Report Usage Metrics Model' datasets which are in each Workspace. These datasets allow us to build our own Usage Reports which look and feel much better than, what has to be said, the rather poor default Report Usage reports which Power BI offer.
Here is a standard usage report: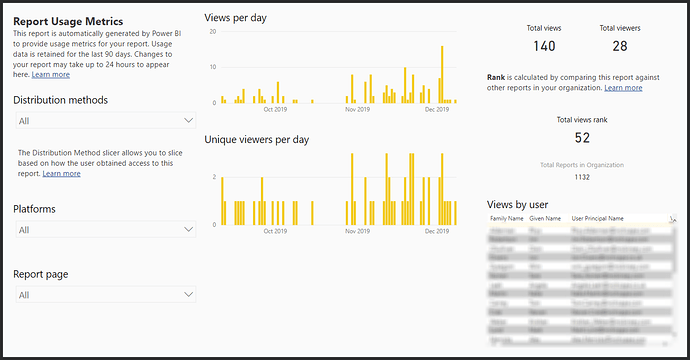 And one of my custom reports built over the dataset, allowing the user to review usage of multiple reports, but only those contained within a single workspace.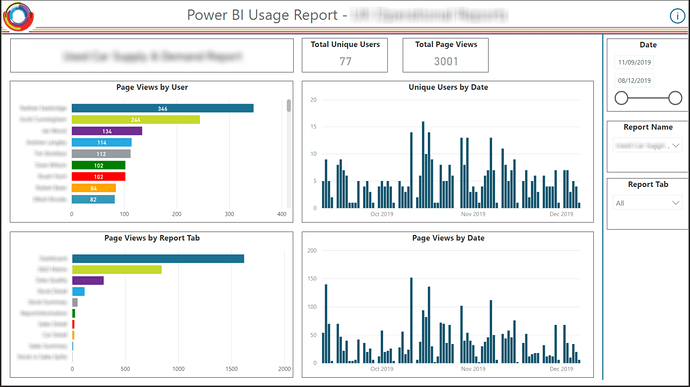 However, as we are using a Power BI provided dataset, I don't know of a way to report over multiple workspaces / datasets in a single report, as we can only connect to one dataset at a time. This means we have to have multiple copies of this usage report, one per workspace. Ideally we would like one, which would allow us to report on global usage across all workspaces.
Does anyone know of a workaround for this? Could Dataflows help? The only thought we have had so far, is that someone manually extracts the row level data on a regular basis from each report and stores that in our SQL database, but that's far from ideal and pretty much a none starter.
Thanks
Mark