Here's Sabine's entry for Power BI Challenge 16. @Sabine, feel free to add other details of your work.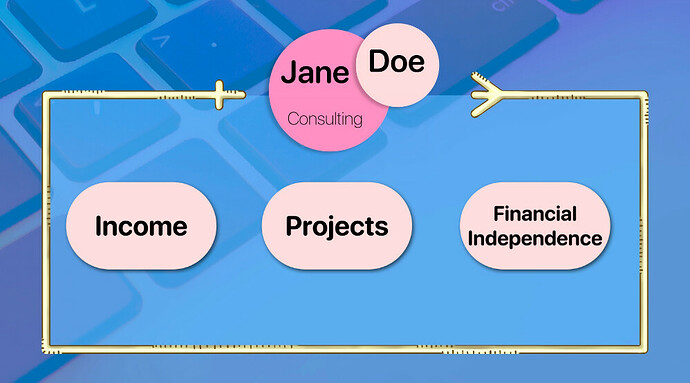 Here's how Sabine described it:
Hi,

I was hesitating to post my report yet, as there is still one more week to go and I was afraid to miss the opportunity to do more or tweak the report a little further. However, I am happy with the result, so here we go!

I have to admit, I spend at least the same amount of time in Procreate as in Power BI, but I couldn't help but to make the report look just the way I want it.

About the layout – Procreate part

First, I decided upon a color theme. I am a girly person, so there had to be something pink in it. Next, I had the idea in mind, that one consultant works for many clients, which makes a one to many relationship (If you can see, how I implemented that into my design, you are my favorite person!)

After working a lot back and forth on the design, I came across those cute icons. I adapted my background to work with the icons and I have to say: I am happy, how it turned out!

But everyone knows, this is not a design challenge, so let me say something more about the calculations.

About the calculations – Power BI part

Quite early in the process I noticed that Jane doesn't earn enough money per year to make a living from it. So, I provided her with a "Financial Independence" calculation. I can tell you: this took me way too long!

The idea about this page was to have a fully customizable way to enter fixed and variable costs to calculate how much Jane wants to earn. That was the easy part. But then I noticed, no matter how much she wants to earn, she must pay taxes from it. As I am more familiar with my local tax system (I am from Austria), I decided to use this instead of working my head around another country's system.

When calculations are done, you can see 2 charts in the middle: one calculating the optimum utilization rate with a variable hourly billable rate, and the other will tell you how much you should bill per hour to keep your current average utilization rate.

Just in case, you are curious, there is a tooltip on the Austrian tax system!

Last step on this page was, that probably nobody will understand, what I did there. So, I made a walk-through tutorial.

This page is the heart and center of my whole entry to this challenge.

About the other pages – more Power BI

Obviously, there is the obligatory landing page.

Then we have the general Income page. To the right, I wanted to try the small multiples visual, and I have to say, I like it!

To the left there is a summary of client, average hourly rate, income, and duration FTE. The duration FTE represents how much time you have spent on a project considering a normal workday of 8 hours (just in case you forget, there is a tooltip!)

The projects page is quite straight forward. In the lower right corner, I've put a comparison between the cheapest, the most expensive and the selected project.

And yes, the dates in the screenshots are in German, as I didn't want to change my settings (sorry for that!).

Conclusion

It was a lot of fun to work on this project and I am so happy how it turned out. I hope you like it and I can't wait to see all the other amazing entries!
To learn about the real-life scenario presented for the challenge, be sure to click on the image below.