Hi all,
Quick questions on 1)M code and 2)Percentage format, please.
I have a couple of columns in my data that hold decimal numbers, which I can change the format once loaded into the model. My attempt to change the column format to percentage while the data is being pulled is via this code:
#"Added Custom" = Table.AddColumn(#"Changed Type", "Custom", each Text.From([Column1] * 100) & "%")
The downside of applying this code is that I am creating an additional column, so increasing the space. I am sure there has to be a better way of only transforming the decimal to a percentage format without adding columns? Potentially something around Table.TransformColumnTypes? not sure if that would enable me to do any calculation on the transformed col, or would that action change it into Text?
Why when I convert the column into fixed decimal and change the format to percentage it shows more digits (screen below)? is there a correct way of displaying %?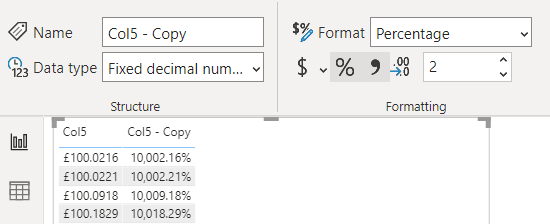 Happy to go through any reading on the site.
Thanks
Hesham