I have a PBIX file that I have been working on for several months, with no issues. Yesterday, I made several changes to it throughout the day, and it was working fine. At some point in the afternoon, it started telling me that I had pending changes that still hadn't been applied.

From that point on, no matter what I have done, that message won't go away. If I click "Apply changes," it acts like it's applying some metadata changes, but the warning that I have pending changes still remains.

If I click "Discard changes," I get the following message. Click "Discard" just dismisses the message, but the pending changes warning still remains.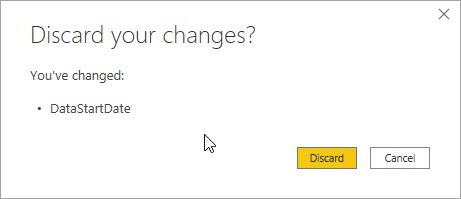 Even if I go into PowerQuery and make other changes to my data, when I apply those changes, they all apply, but the warning remains and behaves the same as described above. I tried doing a "Save As" to save to a new file, and that doesn't change anything either.
I can publish the report, and it seems to work fine, but, not only is this message extremely annoying, I worry about it being a precursor to other things going wrong with the file.
Any ideas on how to fix this? I know the first request is going to be to share the PBIX file. Unfortunately, I can't do that due to the sensitivity of the data. Sorry…