Hi all,
Thanks for colleague assistance, I can handle multi layer RLS (Region, then country).
However, I get a new requirement and need to control access for Sales Person. (add a new criteria)
Below is my model:
Sales Table (now can filter by region/country, but not sales person)
User Right table for RLS (identify user can see what data)
Region/Country table (just for RLS for Region/country)
Sales Person table (can be modify)
I have already setup role to control region/country, but I have no idea how to add the sales person criteria,
I can limit Boris can view Germany data only, but I would like to limit Boris can only view Germany AND SP-1 Sales data.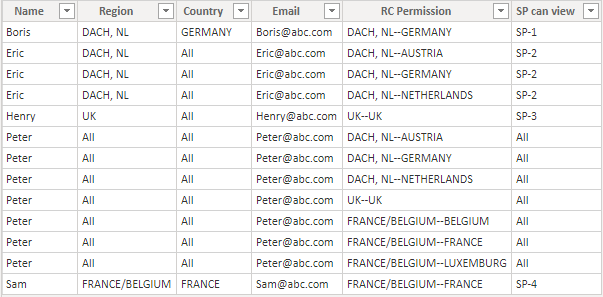 Do I need to implement a complex DAX or modify the model?
I have uploaded my mock up file. Thanks
ML RLS data v2.xlsx (16.2 KB) Hierarchy RLS-demo v2 (1).pbix (101.2 KB)