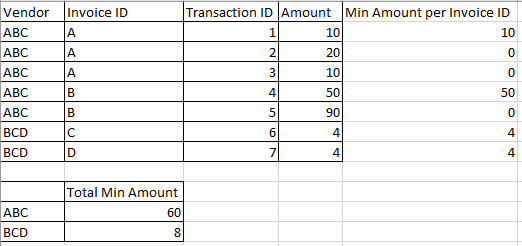 My table has the first 4 columns and I want to either create a calculated column/use some table functions to find the minimum paid amount per invoice virtually, then sum them up by vendor.
I tried SUMX(VALUES('Table'[Invoice ID]),MIN('Table'[Amount])), but it's not correct results.
I watched the SUMX/MINX videos but I guess I'm still not getting it.
Update:
I tried this:
Total Min Amount = SUMX(SUMMARIZE('Table','Table'[Vendor],'Table'[Invoice ID],"Min",MIN('Table'[Amount])),[Min])
It worked. but is this the right/most efficient way to do it? How would you guys do it?