Hi everyone! I have a page that has a slicer for the user to select a year. On that page, there are multiple charts that filter based on the year selection. The problem I'm trying to solve is that I need to have one chart that shows a count of events by month for the selected year EXCEPT when the selected year is the current year, I need it to show a monthly count for the previous 12 months. For example, as of today, we are in Feb 2023, so the user were to select 2023 as the year in the slicer, I need the chart to show Feb 2022 through Jan 2023.
In other words, if the year selected is any year except the current year, I need something like this:
If the year selected is the current year, I need something like this (assuming the current month is Feb 2023):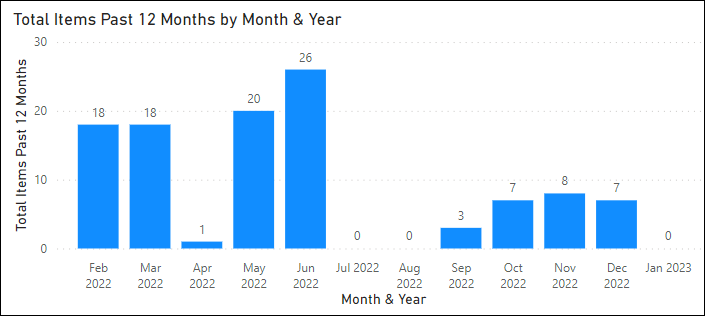 I know how to do each of these separately on different charts, but I am trying to have it be a single chart that shows the desired output based on the year selected.
I have uploaded a test PBIX file with some fictitious data where I built a measure and created a chart to show the last 12 months when the current year is selected, but I can't figure out how to get it to also show the monthly breakdown for the full year if the selected year is a previous year. The measure I am using to show the last 12 month is shown below.
Total Items Past 12 Months = 
    VAR SelectedMonthOffset = SELECTEDVALUE(Dates[MonthOffset])
RETURN
        IF(
            SelectedMonthOffset <= -1 && SelectedMonthOffset >= -12,
            CALCULATE(
                [Total Items],
                REMOVEFILTERS(Dates[Year])
            ),
            BLANK()
        )

Thanks in advance for any help you can offer!
Test Case 12.pbix (153.9 KB)