Max Weeks In Month.pbix (117.7 KB)
Date Table Required Output.xlsx (199.7 KB)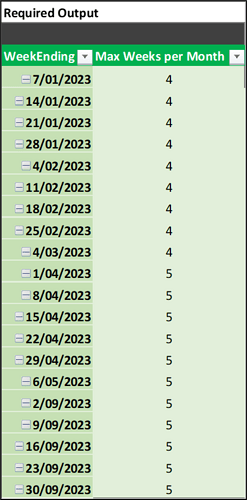 Hi,
I have a Dates Table where I have a weekending date, what I would like to do is to capture the max number of week ending dates for each month in field called "Max Weeks Per Month". Ideally, I want to do this using M Code.
I have attached my PBIX & an Excel file highlighting the desired output.
Is this possible to do using M code or would I need to do it in DAX?
Long term I want to be able to use this field to determine whether whole months or single weekending dates have been selected and use that to output a message for the user as to what has been selected.
The output message to group whole months and list single week ending dates.
Any help would be really appreciated.