I am trying to do the following.
I want to create a matrix. In the rows, I want the dates for the last 7 days. In the values section I want the sum of transactions.
I'm looking for something like this…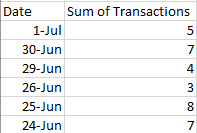 (** notice since there are no transactions on the weekend, June 27 and June 28 are not on a row**)
When I first tried this, I put a filter on the visual using the Day Offset in my calendar table. Basically Calendar[Day Offset]>=-7.
The problem is that a blank date shows up on the top of the matrix, with a sum of all the transactions beyond the 7 days. It looks like this…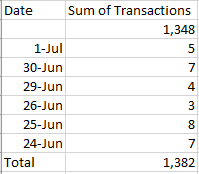 (**Also the total is for all transaction dates not just the last 7 days)
Thanks for the help