I am trying to show the Patient Journey in a Line Graph with one line for each Patient with all the Drugs he/she has taken over a period of time where 'Drug B' is drug of interest. First time a patient is taking Drug B, is it flagged as Timeline (T) = 0 and other Drugs timelines are calculated based on T = 0 for the respective Patient. I want also want to show each Drug Name as a different shape plotted on the line (Ex: Drug A as Triangle, Drug B as Circle, Drug C as Square)
Issue 1 : PowerBI is applying the Aggregate function (Ex: Count) on Timeline values when I want to see the each Timeline data plotted as separate value.
Issue 2: How to show the Drugs as different shapes on the Line Graph?
I have attached the respective PBI file for reference and the screenshot as reference material. Hope the request is clear but if not, please let me know.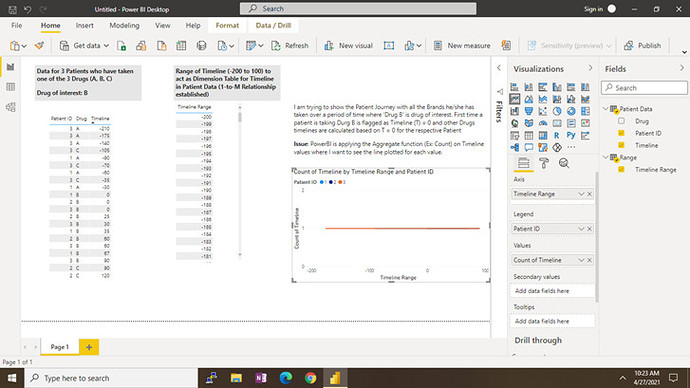 Patient Sample.pbix
(31.2 KB)