I have a matrix that displays the number of inspections for the first 12 months a franchise is open against the first 12 months of other franchises, regardless of when they opened (see chart below). I want to display a zero in the blank fields in a Matrix but only for actual months they are open. The issue I have is I only want a zero in the months they have actually been open. If i use the '+0', it will put a zero in all months that have a blank. For example:
in the chart below, Jeff Moses is actually in his 8th month open. Month 7 and 8 should be zero. Month 9 thru 12 should be blank. This allows us to quickly look to see if a new franchise might need attention because they shouldn't post a zero after being open for a few months.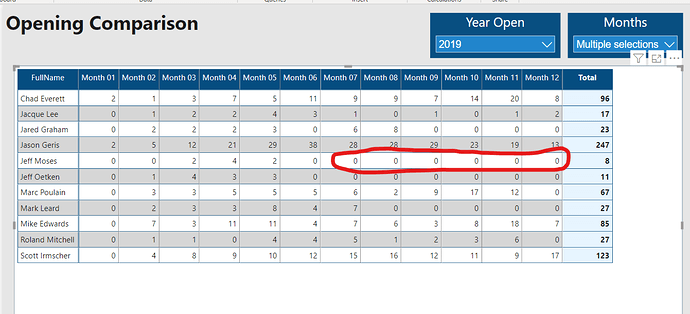 I have created a column that calculates the current month if that makes a difference.