I have different projects that influences the different areas of operations depending on their start year, number of years it takes to mature and then the projected saving % once mature. So if I have project A starting in 2016 that will have a saving effect of 30% once mature that takes 3 years to mature it will have the following projected % savings on specific areas of operations: Before 2016 - 0% saving; in 2016 = 10%; 2017 = 20% and 2017 until 2030 = 30% on specific areas.
I calculate the % savings for projects for specific sections using these dates,years and percentages and then have a line graph that shows the savings without projects vs when different projects gets implemented. (See below). We want to now do a "simulation" where we change these parameters to see the overall change for the projected years. I created 3 parameters (Slicers) for each project. How do I link these individual slicers to only 1 project? Here is a screenshot of what I want to do: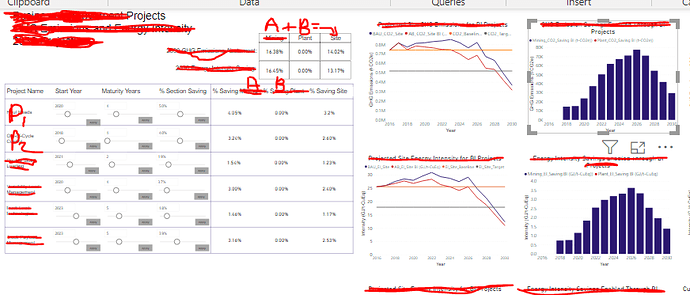 Does anyone have any idea if this can be done?